Important Update on Ship Dates, Pressured Materials & Freight Carriers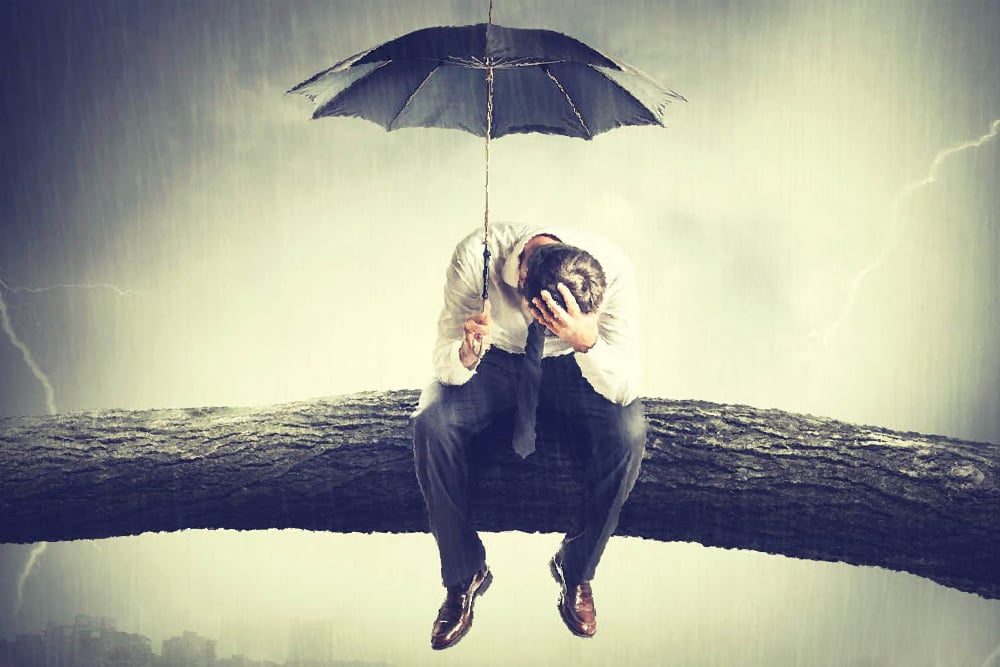 While 2020 began with a Pandemic of global proportions, it is in 2021 that we are starting to feel the full effects. As the remodeling and building industry gained momentum throughout 2020, we began to see some cracks in the foundation for suppliers (not just our supplier, Conestoga Wood Specialties….EVERY supplier). These "cracks" include availability pressure on some popular wood species, price pressure on nearly everything and pressure on lead times as factories just cant keep up with the demand. We have written some other articles on these issues in past weeks/months which you can certainly go reference, but we wanted to summarize things here.
PRESSURED MATERIALS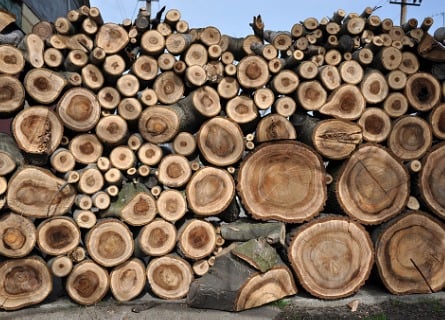 First off, lets cover scarce materials. Walnut and now Quarter Sawn and Rift Sawn Oak are all under significant pressure but to understand why, we must first understand these materials themselves. Both Walnut (in its dark, chocolate color) and Quarter Sawn/Rift Sawn Oak make up a very small part of their respective log.
Walnut
In the case of Walnut, the desirable dark-colored material is in the center of the log. The outer portion of the log is actually a very light wood. Therefore, when processing walnut, much of the log is not usable. Walnut is in such short supply, it is not uncommon for homeowners with more than 10 acres to receive postcards from timber companies offering to timber your property for its Walnut trees. I received such a postcard myself in late January 2021. The poor yield and scarcity, combined with an incredible uptick in demand for this gorgeous wood, has led to a shortage industry-wide.
Quarter and Rift Sawn White/Red Oak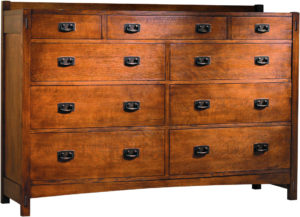 While standard "Grandmother's Oak" with its arching, cathedral grain patterns have been out of favor for years, the vertical grain striation of Quarter and Rift Sawn has made it extremely desirable. When you think of Quarter and Rift Sawn materials, think about Stickley Furniture which popularized this wood years ago.
But due to the way Quarter and Rift Sawn Oak is actually cut from the log, it yields very poorly (much like Walnut). Take a look at the diagram below which illustrates how the log is actually processed and you will see why. Rift and quarter sawn logs result in smaller, narrower boards and even when cut as the diagram illustrates, planks may not qualify as Quarter or Rift sawn and not considered suitable for cabinetry or furniture.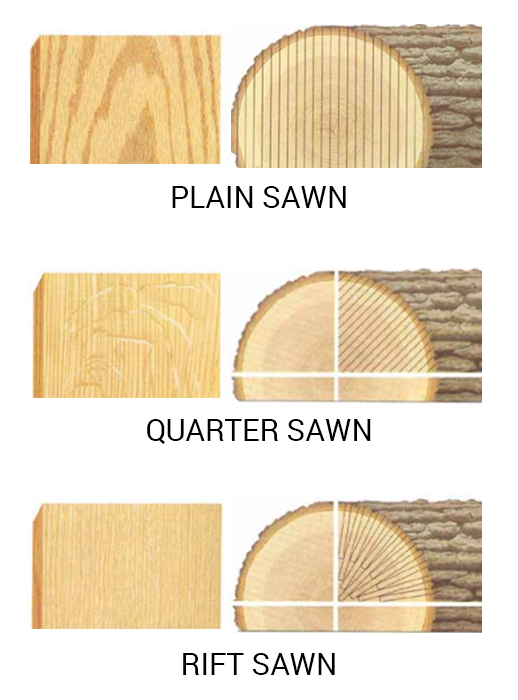 All this to say that, in the current climate, if you were to order a kitchen in Walnut or Quarter/Rift Sawn Oak, we cannot promise a fulfillment date on some parts of your order, generally those containing longer lengths of material. This is a very fluid situation and Conestoga is scrambling to find lumber wherever it can. But we have been told by Conestoga that in some cases, it could be weeks or MONTHS before some longer pieces can be fulfilled…and the answer to this can change after you already placed your order. Therefore, it is of utmost importance that our customers understand the following:
If you place an order containing Walnut or Quarter/Rift Sawn Oak (Red or White, but White Oak is under more pressure), please understand that Conestoga will work diligently to complete the order in a timely fashion, but we nor they can promise a ship date. Your order will still be issued a standard "estimated" ship date, but in all likelihood, this date will be moved several times until material can be procured. Once an order is placed, it cannot be canceled as they have already begun production on the bulk of the order they CAN fulfill, so you need to enter into the order knowing that the lead time is likely to be very extended. We are asking Conestoga to at least ship what they can, when they can, but the longer length material could be weeks, if not months until it is fulfilled. Remember, this situation is constantly changing and is industry-wide, not limited to Conestoga. Patience is the order of the day until the industry rebounds from this shortage.
Prices will be fluid. Any quote you receive can change at any time as Conestoga is forced to evaluate prices of these materials as they procure it and the lumber mills are charging higher and higher prices as a result of the lack of supply.
We can't predict the future. While it seems longer lengths of these materials over 78″ are what is currently under pressure, the pressure could flow over into shorter and shorter lengths until all of it is under pressure. There is a great risk in placing an order for these materials if your lead time window is short or very fixed in nature. Be sure to talk it over with your contractor.
We would rather not sell a job than sell it and have a customer be frustrated or upset at us or Conestoga for these shortages that are beyond our control. Please, only place an order for these woods if you understand and can absorb any possible extended lead times.
LEAD TIMES
Lead times at Conestoga have also been under extreme duress due to:
A huge influx of orders – the whole building/remodeling segment of the economy is on fire
COVID induced "rolling blackouts" in their plants as swaths of employees fell ill, forcing the quarantine of their work associates. Conestoga is working on a workforce of 30% fewer employees than pre-pandemic…yet incoming orders have skyrocketed.
Shortages of available labor as employees found that they could make more money staying home on unemployment than coming to work (thanks, government).
All of these factors came to a head in early 2021 as Conestoga got further behind in production than they ever have been. Lead times are currently "published" at 5-10 days beyond their normal lead times, but we hedging ourselves by telling customers 8-12 weeks production time on many orders. Still far better than most companies in the semi and custom cabinet market, but Conestoga was notorious for consistent 3-4 week lead times, so this is really unprecedented for them.
So what should you know as it pertains to Lead Times?
Ship Dates we issue (from Conestoga) after your order has been placed are nothing more than general guidelines. We cannot pin down an exact ship date in the current environment we, Conestoga, and the industry find ourselves in.
Delays in your order are likely. While we hate to admit it, we are seeing more and more instances of Conestoga moving an anticipated ship date several times due to lumber or labor shortages.
Plan ahead for inevitable delays. Please don't rip your old kitchen out and then plan on receiving cabinets in 3-4 weeks. Therefore, we don't suggest removing the old cabinets until the new cabinets have arrived. We understand what happens when projects are planned in a manner where we can set our watch by manufacturers' lead times, but this is not a business climate in which that is a sound strategy.
FREIGHT CARRIERS
Perhaps the most frustrating things we are all dealing with right now are issues surrounding shipping. Every single carrier is under huge pressure with more freight being moved across the country than they have ever dealt with before. The result is more than the normal amount of damage and temporarily lost or missing pallets/pieces. Our core freight carrier, Fed Ex, actually informed Conestoga that they were being put on allocation (Fed Ex only sending 3 trucks a day for pick up of goods) so that they could service all their customers versus a few larger ones like Conestoga gobbling up all the capacity. This forced Conestoga to use a plethora of shippers they don't have a great deal of familiarity with. More importantly, all the carriers are pushing back on damage claims when their policy is not followed. What is this policy? As outlined in various places on our website and in our Customer Agreement, all goods must be inspected for shipping damage and any missing items within 12 days of receipt.
We do apologize for all these frustrations we are all facing. These are challenging times and we will surely get through it, we just need to all have some patience and show grace to each other when things do not go as any of us planned. Here at Cabinet Joint, our sales reps have been barraged with constantly changing information from Conestoga and heaps of bad news as these situations have evolved, so we know what you are dealing with and will do all we can to help you through your project! Stay focused on the things that matter (family, health, etc) and we will help you ensure your cabinetry project being a success as well!