Step 1

: Collect Your Measurements
In your existing space, begin by measuring the length of each wall from corner to corner.
Next, measure along each wall, from a corner to obstacles such as windows and doors.

Measure the length & width of all openings (windows, doors, doorways, etc). Be sure to account for any trim or moldings that may not yet be installed around these openings.

Now measure along each wall to the center of any plumbing penetrations or electrical outlets that may need to be accounted for on the final plan view drawing.
If your kitchen will include an island or peninsula, be sure to locate this feature (length x width) while also taking into account all recommended/required aisle widths.

The National Kitchen & Bath Association recommend 42″ for all aisles between/around islands, wall cabinets, & peninsulas. At a minimum, the CabinetJoint does not recommend that our customers specify aisles narrower than 36″ wide on their design.

The next required measurement is your ceiling height.

Be sure to actually measure this height & do not just assume that your ceiling is exactly 8 or 9 feet high. If your space is currently in a state of construction, then be sure to account for all future flooring & ceiling materials that have yet to be installed.

Finally, measure & record any existing cabinet (base, wall, tall, utility, etc) dimensions as well as the dimensions of all appliances (new or reused) that will be installed in your new kitchen space.

If possible, obtain a copy of the original manufacturer's appliance specification for all appliances in your new kitchen space. These documents serve as a great reference document during design & installation & should provide all minimum required clearance dimensions; as well as, mounting instructions that will be required for installation of that appliance.
Step 2

: Developing Your Design Sketch

Once you are comfortable with all of your room measurements, then its time to begin sketching your design layout.
Be sure to include all above measured dimensions on your drawing. If your drawing includes a good amount of details or is becoming busy, then we recommend that you label each wall, cabinet, or other feature with a letter and create an accessory key that can accompany your drawing that will contain all measurement, part numbers, & feature details.
When creating this sketch, we recommend you draw your kitchen to scale (i.e. make every 4 blocks on your graph paper equal 1 foot of actual room/cabinetry).  Our experience yields that sketching your kitchen to scale will allow you to best visualize the actual size of your new kitchen relative to cabinetry, appliances, aisles, & other features.
As you create your sketch, you can either draw your exact cabinets & note them (including dimensions) on your drawing or if preferred, you can send us a simple top view sketch; as well as, an accessory list of measurements/details that our designers will use to sketch your kitchen using their CAD (Computer-Aided Design) software.
Below, for reference, we have provided a correctly plotted kitchen when viewed from the top plan view.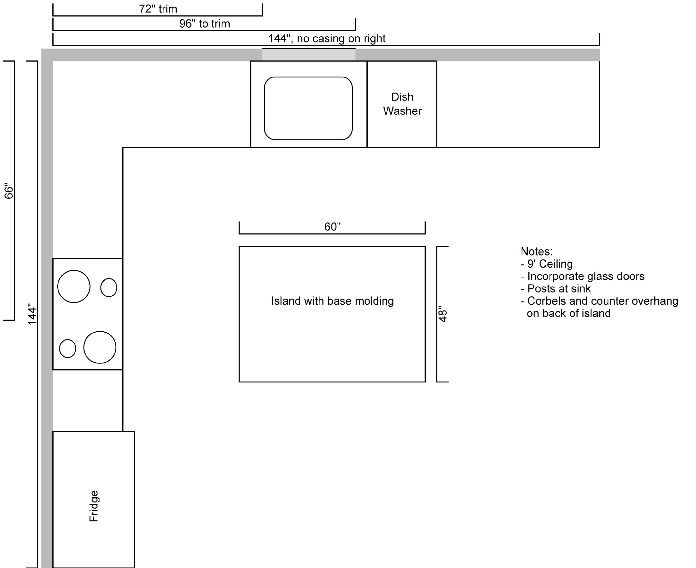 Step 3

: Additional Design Details

Before you move forward with your design or submit your sketch to our designers for review, be sure to consider the following:
Do you want any mullion or frame only doors, with glass center panels, used on any cabinets in your design?
Did you want to include any roll-out trays? How about a pull-out trash bin?
Does your design include staggered height wall cabinets (i.e. some wall/tall cabinets are higher than others in the room)?
What kind of designer elements are you hoping to include in your design (i.e. posts, flutes, corbels, etc.)?
To learn more about the Design Services offered by the Cabinet Joint's designers, please click the button below.
Save