Design Services
Let's help you visualize your new space!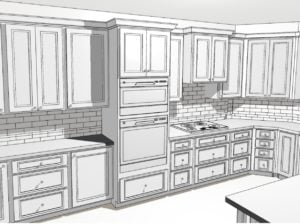 NOTE: DURING THIS UNPRECEDENTED TIME, WE ARE EXPERIENCING A MASSIVE SURGE OF INTEREST IN OUR PRODUCTS AND SERVICES. AS A RESULT, OUR PRO DESIGN SERVICES ARE AT CAPACITY AND UNABLE TO TAKE ON NEW CUSTOMERS. PLEASE CONSIDER OUR COMPLIMENTARY DESIGN SERVICE OR CHECK BACK SOON! THANKS FOR YOUR PATIENCE!
One of the most difficult elements to designing a new kitchen can be trying to "visualize" your new space prior to construction. A close second is probably trying to ensure that you order the correct cabinets to make that vision a reality. Since you may not have access to a CAD (Computer-Aided Design) program, consider alleviating any frustration by working with our designers to help guide & shape your new kitchen design.
Here's all you need to do…
Check out our Measurement and Sketch Guide to measure your walls, etc.
Choose a design package below and click the 'Start My Design' button.
Wait 3-5 business days to get connected with your Pro designer or receive your Basic or Value design & quote!
Design Packages
Basic
Free -1 Room Only
---
Basic package includes:
BEST VALUE
VALUE
$150 – Per Room
---
Value package includes:
Customer is responsible for appliance opening dimensions and cabinet clearances.
Pro
$450 +
---
Pro package includes:
Questions? Just give us a call at 1-888-211-6482 and we can walk you through the process!