Ready for a Design? Choose your best fit from these 2 options:
OPTION 1:
Free Initial Concept Design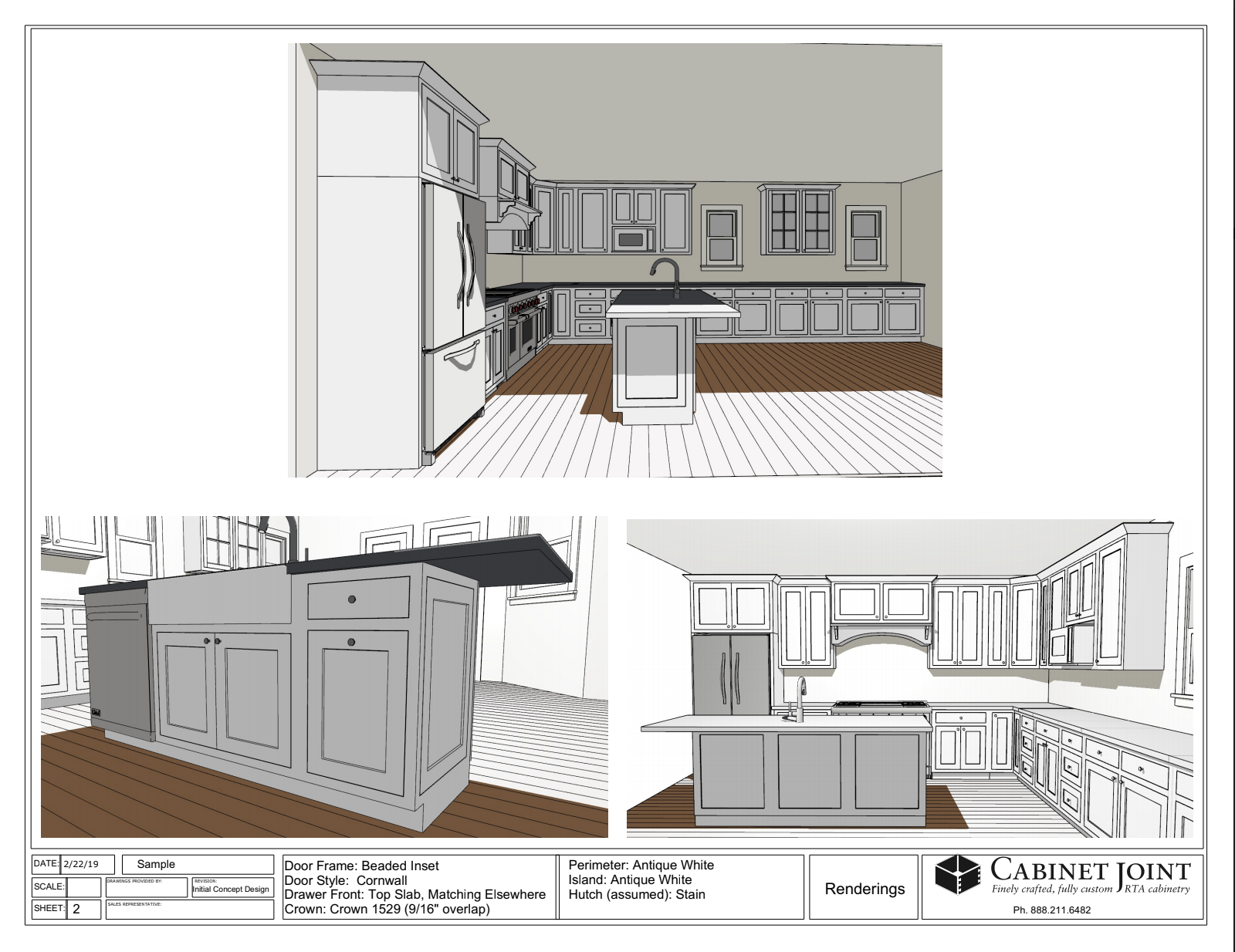 This complimentary option is right for you if…
You're confident with your layout & design elements and are looking for a quick visual of 1-2 rooms to make sure it all fits.
You have no layout in mind and are looking for a basic layout idea from an experienced designer as well as a general quote to see if we are within your budget.
Here's what you do:
Understand that this option is a quick general concept, not an interactive design service (if this stops you in your tracks – please check out our Premium Design Service instead). It is imperative that you understand this option is really meant to help you get a quote to determine how our cabinetry prices out for a given layout. 
Fill out the request form and provide the required dimensions.
Wait 3-5 business days to receive your design and quote.
Here's what we do:
One of our designers creates an Initial Concept Design with

standard appliance openings based on the info you provided with your form. This will consist of a top-down floor plan without cabinet codes, plus a few 3D renderings of the room.
Your sales rep will create a quote from this design and email you the quote while setting up a time you both can review the design on a screen share (we don't send drawing files as our experience is that these just get sent to other Conestoga resellers who do not offer design services. We feel this is unfair to our designers and sales reps). He/she will answer any questions you may have and can fine-tune pricing and cabinet details with you directly.
If needed, you get one free revision with your Initial Concept design. Your sales rep can continue working on the quote process with you.
If you feel the product meets your budget expectations, but you or your sales rep feel you may need more assistance to prepare a complete/detailed design for purposes of ordering, your sales rep may steer you to our Premium Design Service.
Start your Initial Concept Plan Now!
Here is an example of an Initial Concept Design…
OPTION 2:
Premium Paid Design Service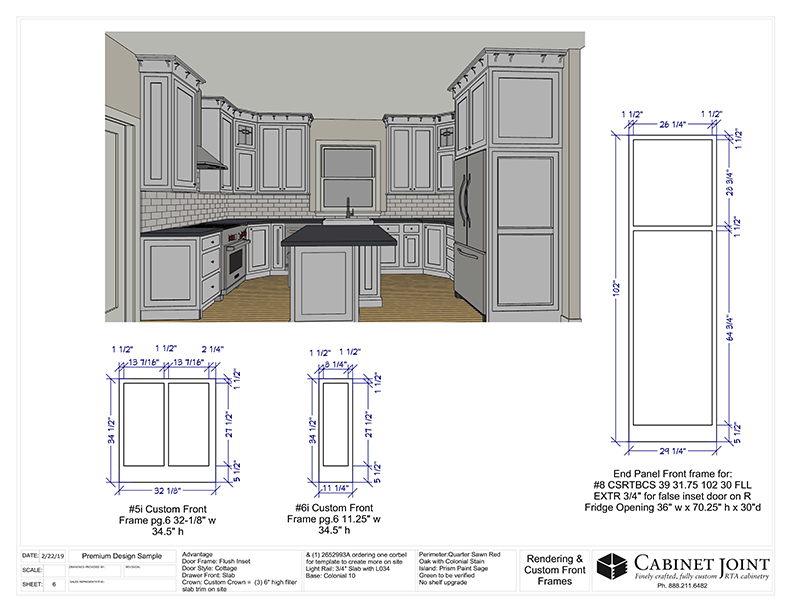 This paid, interactive option is right for you if…
You have a large/complex design or multiple rooms.

You're fairly certain you will be using our cabinetry/services (design fees credited only if you purchase from us)

You need help determining your layout and design elements.
Here's what you do:
Understand this option incurs a fee (which will be credited

back for up to 2% of the total when you place an order).
Wait 1-2 business days to hear back from your personal designer, who will request additional details for your design.
Communicate with your designer as efficiently as possible. A numbered list in an email is always the best method to keep things clear and on track.
Here's what we do:
Once your form is received, your designer will send you an intro to the process and collect information for your project.

He/she will work with you, listening to your

desires, making recommendations to maximize aesthetics & storage, while providing options that will help you stay within your budget. He/she will empower you through this process from beginning to end. You will be a team!
Your designer will create a custom design and drawing package for you containing a dimensioned floor plan with cabinet codes, front elevation views, and 3D renderings. This package will not only help you envision your space but also help you better understand your quote and install your cabinetry.
Your designer will provide 1 free revision to these plans. Further revisions may be billed at an hourly rate, so be sure to keep revisions and edits 'off design' and only request revisions you are fairly certain you will proceed with.
Start your Premium Design Now!
Here is an example of a paid design plan…