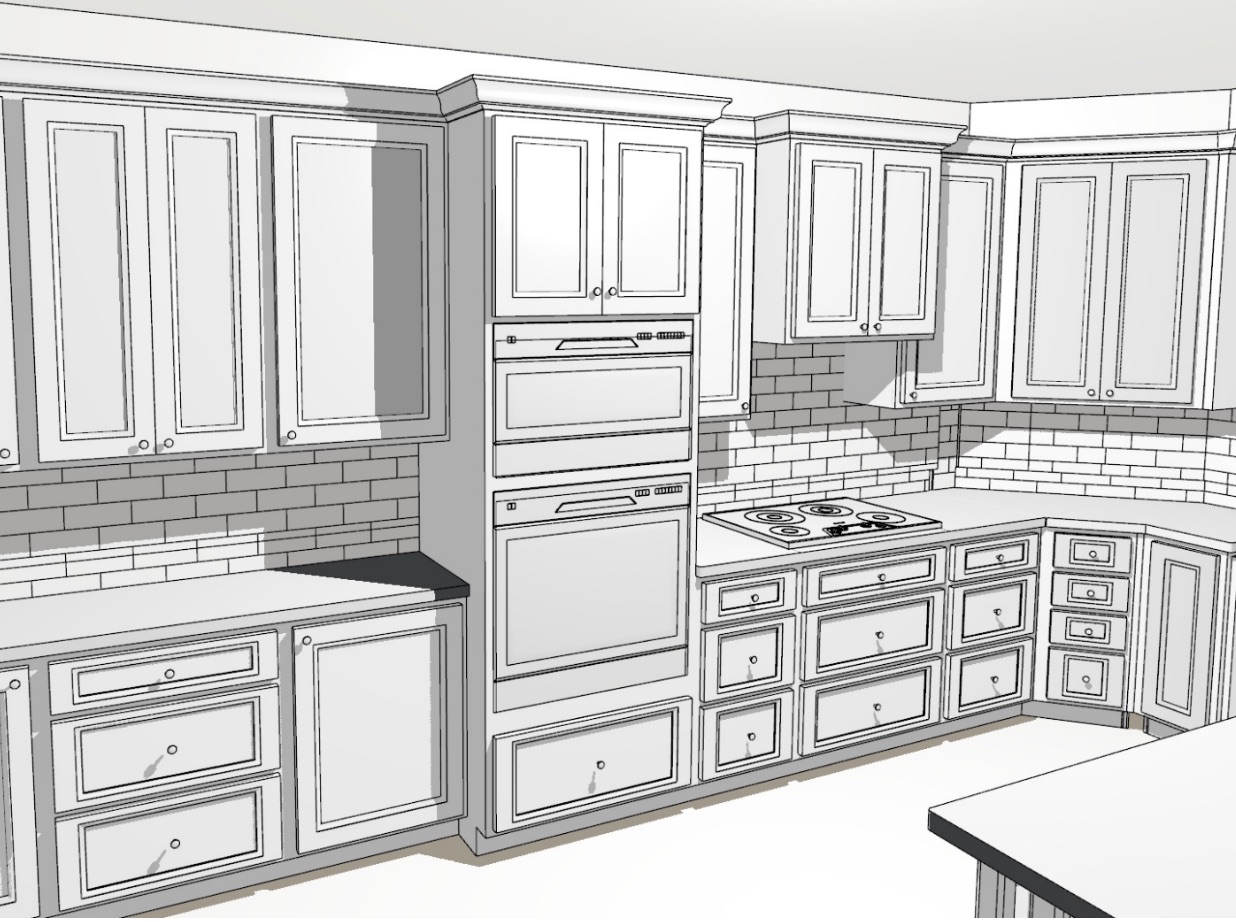 One of the most difficult elements to designing a new kitchen can be trying to "visualize" your new space prior to construction. A close second is probably trying to ensure that you order the correct cabinets to make that vision a reality. Since you may not have access to a CAD (Computer-Aided Design) program, consider alleviating any frustration by working with our designers to help guide & shape your new kitchen design.
Here's all you need to do…
Check out our Measurement and Sketch Guide to measure your walls, etc.
Fill out the quick Design Request form, provide the requested details and attach your sketches/images.
Wait 3-5 business days to receive your concept design and corresponding quote!
Then, here's what we'll do…!
One of our designers will create a design with

standard appliance openings based on the info you provide with your form. The goal of our complimentary design is only to generate a simple, "no obligation" quote to see if there is a fit between your project and our products/services. This concept design will contain a top-down floor plan (without our cabinet codes) plus critical 3D renderings so you can visualize your cabinetry a little better.
One of our Cabinet Coaches will create a quote from the initial design and email you the quote and the general design renderings. They will then set up a time where they can review the design & quote with you. During this call, you can review options, fine-tune your budget, etc.
You receive one simple revision with your complimentary design. Your Cabinet Coach can continue working on the quote process with you using this design or, if your revisions or design needs are more complicated or time-consuming in nature, you can:
Move on to our premium design services where you will receive a much more intensive, fee-based design service in order to better meet your project goals. In most cases, the entire design service fee is credited back once you place your cabinet order.
– OR –
Request a further simple revision to the complementary design for a modest fee of $75. The entire fee will be credited back once the full cabinet order is placed.
Please note, our only purpose in charging for design services is that each design represents a good deal of time spent by our designer to win your loyalty. We do not feel it is wise to enable competitors to sell cabinetry off of our labor. Once a design fee is paid, the design becomes yours and not ours and you can share it with whomever you wish!
If you wish to learn more about our design service in general before making a formal design request, just give us a call at 1-888-211-6482 and we can walk you through the process!
Are you ready to begin your design?