Design Services
Let's help you visualize your new space!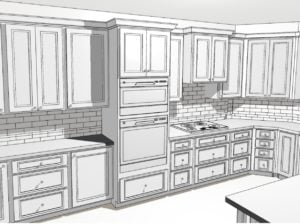 One of the most difficult elements to designing a new kitchen can be trying to "visualize" your new space prior to construction. A close second is trying to ensure that you order the correct cabinets to make that vision a reality. Since you may not have access to a CAD (Computer-Aided Design) program, consider alleviating any frustration by working with our designers to help guide & shape your new kitchen design.
Here's all you need to do…
Check out our Measurement and Sketch Guide to measure your walls, etc.
Choose a design package below and click the 'Start My Design' button.
Sit back and relax! We will respond with your Basic or Value design & quote as quickly as possible, generally under a week.
Design Packages
Basic
Free -1 Room Only
---
Basic package includes:
BEST VALUE
VALUE
$150 – Per Room
(plus tax)
---
Value package includes:
Customer is responsible for appliance opening dimensions and cabinet clearances.
Pro
$500 minimum
(plus tax)
---
Pro package includes:
Questions? Just give us a call at 1-888-211-6482 and we can walk you through the process!