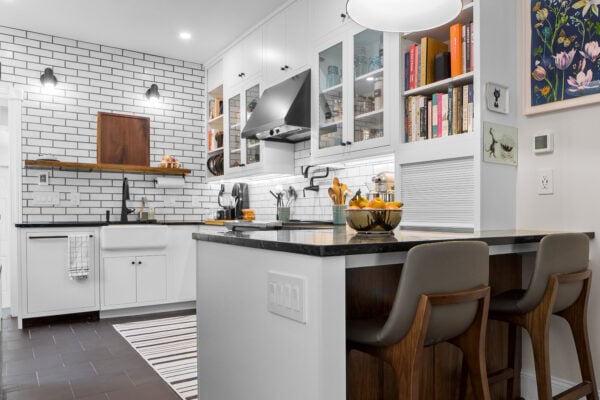 Cabinet Joint was a joy to work with on our first major interior renovation!
They were able to take our design and and translate it into all the components we needed to pull it off. Their sales person, Jim, was extremely patient as we worked through redesigns, changes to features and what colors and finishes to spec. He was always able to fill in the blanks where our knowledge was lacking, and talk through trade offs. He was also quick to communicate when we hit a snag (walnut became extremely popular and therefore scarce during our project), and walk us through options. Thankfully, we were able to keep our original specs. However, demo revealed that I was overly ambitious about how much space we would have in the new kitchen – but there was Jim and the team ready to help talk through solutions to my mistake. The end result is stunning, with all of our friends (including wood workers) and contractors equally impressed with the quality of our cabinets and the price. We definitely plan to work with them in the future whenever we need custom cabinetry!

— Peter Barnard, from Pennsylvania (August 2021)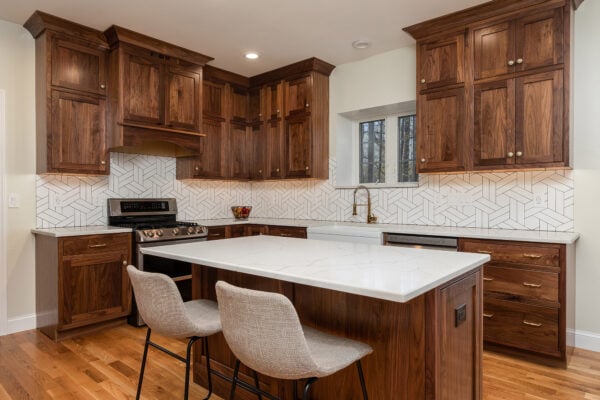 I do kitchen remodeling for a living
I've used other rta cabinet providers in the past. I've used the popular semi-custom brand used on a lot of the remodeling shows. I've built custom cabinets from scratch. When it was time to remodel our own kitchen, we chose to call Cabinet Joint and we are glad we did. The quality of the product is second to none. The walnut is everything we hoped it would be. The finish is excellent. The built-in spacers, known as extended stiles, give these cabinets a very high end feel. The ordering process was great. The sales team went over everything in detail, made some great suggestions, and made sure I had all the right drawer and door sizes. Assembly was straight forward. With a little bit of attention, our cabinets came out perfectly square and beautiful. The videos on the Cabinet Joint website were very helpful for figuring out the particulars and details. I did have to call back and order an extra piece of crown because I had under ordered. They got it to me quickly and it was a perfect match to the original order.

This kitchen is now the focal point of the house and elicits comments from everyone who visits. Even the crew who installed the stone commented on the quality of the cabinets. We couldn't be happier.

— Brance Gillihan, from North Carolina (April 2021)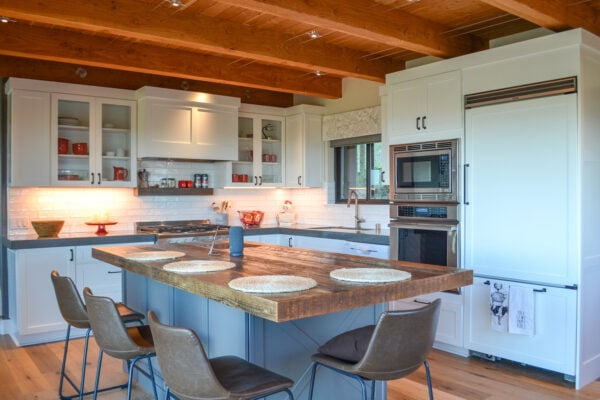 Mountain cabin kitchen
We bought a mountain cabin and have loved spending time there, but the kitchen was incredibly small. We are both architects, so it wasn't too long before we decided to remodel.

I actually bought my Stove from a lady selling it on Craiglist. When I went to her house, I learned that she was a professional chef and she was remodeling her own kitchen. She had beautiful cabinets partially installed and I asked her about them. She told me about Cabinet Joint and at that time, I was also looking at the Home Improvement stores. I love the fact that the cabinets are of such excellent quality and that they would come painted! I am pretty picky about quality, but I couldn't afford totally custom cabinets.

There are almost too many choices out there, which can be overwhelming. If you don't have design experience, I recommend using the in house designers. I was able to get some free advice on color and style from my friend who is an interior designer.

I loved working with Cabinet Joint and believe using them was one of my best decisions!

— Mara Young, from California (April 2020)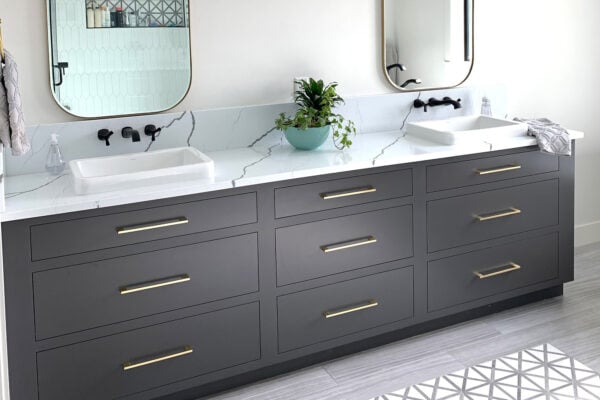 We were looking for high quality cabinets for our new build.
We were looking for high quality cabinets for our new build. Our home is quite large at 5000 sq feet and our cabinet budget had been set at $40k which seemed low to me. I was feeling quite discouraged after getting quotes from numerous companies just for the kitchen ranging from $22k-$38k. We had 2 other bathrooms, a large office, large kids desk area, mud room, kitchenette, laundry room, and great room built ins that I needed cabinets for as well and it didn't seem like we were going to meet our budget. I had been looking at RTA cabinets as a possible option but none of them seemed high quality until I came upon your website. I had just been googling RTC cabinet stores and your website came up. I was thrilled to say the least! Not only was I getting exactly what I wanted in quality and high end features, I was also getting the price we needed! I worked with Mark and he was great! Answered all my questions in a timely manner and helped order the cabinets that hadn't been in the design. For the kitchen design, I worked with Jamie and she was amazing! I definitely couldn't have done it without her! If I were to start the process again, I wish I hadn't wasted so much time getting all those other quotes! Haha!

— Jessica Oltman, from Oregon (January 2020)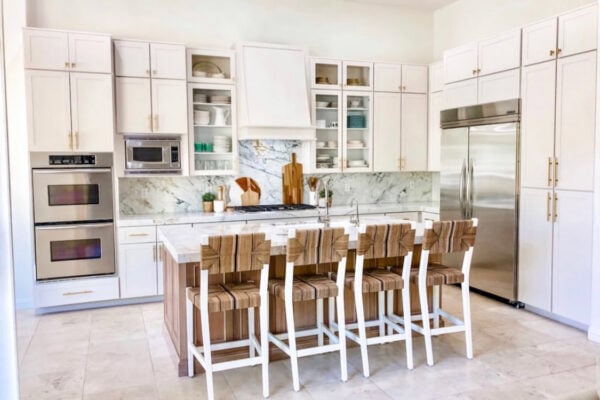 Kitchen remodel
We bought a home in Las Vegas, NV that was built in 1999, making it 20 years old. It had been a vacation home, and thus the original kitchen cabinets were still in great shape because they hadn't had much use. They did need updating and tweaking for a more functional kitchen. We ended up re-facing part of the kitchen, and also adding a completely new pantry and new island, plus additional cabinetry on the top of existing cabinets.

We looked into several local companies for our project, but none of them compared with the quality and affordability that Cabinet Joint offered. I was referred to you through a friend whose kitchen you had done. It was magnificent and we were intrigued. I toured the showroom and saw the quality of the product firsthand and was blown away. The service was exceptional also.

Our point of contact was Jim Barton and he carefully walked us through the entire design and ordering process. I actually first met him at your showroom for an initial visit and was so impressed with the product and his knowledge. Thereafter we communicated via phone and email. He was incredible to work with, very helpful, listened well to our needs and wants, and was responsive and professional. We couldn't have had a better designer.

Cabinet Joint did an excellent job of walking us through the process and helping us with expectations on pricing and timing of delivery. The quality is so top notch that when they arrived we were even pleasantly surprised with how beautiful everything was. The instructional videos were very helpful in assembling and installing the cabinets. We would love to do another project with Cabinet Joint in the future and would highly recommend them to our friends and family.

— Nicole Hunt, from Nevada (January 2020)
See more ratings and reviews: Facebook | Houzz