General Sizing Specifications
Wall cabinets are generally 12.5″ deep (this is non standard as most companies offer 12″ deep as standard). Base cabinets are generally 24″ deep. Obviously, some models of wall or base cabinets will differ from these, but this will be called out for that cabinet in the catalog as well as on your quote. These depths are from the back of the cabinet to the front of the face frame and do not include the thickness of the door and drawer front. Toe kick spaces are 4″ high and, once our 1/2″ toe kick boards are installed, result in a 2.5″ deep toe box. Toe space is not adjustable.
Face Frames
3/4″ thick solid wood face frames with 1-1/2″ wide stiles and rails unless otherwise specified. Frames feature Blind Mortise and Tenon joints. Custom front frame configurations are available. Face frames will overhang the cabinet side by 5/16″ unless the flush end option is requested& (only available on Advantage). Inquire with a CabinetJoint.com sales associate for details.
Tops, Bottoms & Sides
Advantage: 1/2″ thick plywood sides/tops/bottoms with real wood veneered interior. Interior is prefinished in a UV cured acrylic topcoat. A Matching Interior option available where the cabinet interior is the same species and finish as the outside. This option is suggested for open/glass cabinets and is standard on many cabinets such as open bookcases.
Exposed ends: (visible ends that are to be finished to match the cabinets) must be specified per side per cabinet.
Flush Ends: For Advantage only, an 11/16″ flush end option is also available where the cabinet side flushes out with the cabinet face frame, eliminating the 5/16" face frame lip that is typical on face frame style cabinets. A slight 1/16″ overhang of the face frame will still be present, but the final appearance is much more furniture-like than the standard exposed end.
NOTE: If a finish is requested on cabinets, the flush end and exposed end options will automatically result in those sides being finished to match cabinets. Therefore, only request these finished side options on cabinets that will be visible after installation.
NOTE: While Conestoga considers their cabinet box an 'all plywood' cabinet, there are occasions where they specify a plywood with two thin MDF  layers sandwiched in between the real wood veneer layers. This is done to A) improve the machining of the dovetail assembly slots B) result in a flatter, more stable plywood which does not cup or bow as easily and C) create a more uniform thickness for the plywood which aids in assembly. So, please be aware of the possible presence of these thin MDF layers in the layup of some of their plywood and also understand that we cannot specify a different all plywood board be used even if we chose to. We are beholden to Conestoga's specifications and the presence of these layers will not be grounds for replacement or credit.
Cabinet Backs
UPGRADED JANUARY 2013 – Conestoga now uses a 1/2″ back instead of a 1/4″ back. This gives the cabinet better strength, better screw holding power for drawer glide brackets which fasten to the cabinet back, and improved ease of assembly as the omission of the old hanger cleats allows for fewer steps while providing a better product.
Shelves
3/4″ plywood veneered/edge banded shelves are standard in Advantage while an upgrade to 11/16 thick solid wood shelves is available. These solid wood shelves are pre-finished with a UV cured acrylic topcoat and feature a bull-nosed front edge. Shelves are adjustable in 32mm increments. Shelves in base cabinets and tall cabinets are 3/4 depth. Cabinets with Matching Interior option will receive plywood/edge banded shelves in matching veneer and finish. PLEASE NOTE: Shelves over 18″ deep, shelves for double entry cabinets and shelves for some specialty cabinets are not available with solid wood upgrade and will be sent in standard plywood automatically. This will not be deemed a mistake and will not be replaced.
Cabinet Interior
Interiors are finished in a clear UV acrylic topcoat on  Birch Veneer. The Birch veneer will exhibit the light and dark patterning shown in many of our assembly videos. Some interior panels will be light, some dark and some mixed. This is a standard feature of interior-grade birch veneer and will not be considered defective.
Matching interiors are available in cabinets specified with the matching interior option (or those that get matching interiors as a standard). Interiors are finished to match the cabinets when finished cabinets are requested. Note that this only applies to standard woods (Cherry, Maple, Oak) and painted cabinets. Non-standard colors or species are not available with the matching interior option. For unfinished cabinets, the matching interior option will result in a matching species veneer on the inside of the cabinet, but it will be left unfinished. Unless the matching interior is specified, even unfinished cabinets will come with the interior already finished in the UV clear topcoat, so no finishing needs to be done by the customer.
Cabinets specified with matching interior will not have a solid wood shelf even when the solid wood shelf option is requested. Instead, these cabinets feature a 3/4 thick plywood top in the same species as the cabinet. The front edge of the shelf is edge banded in a matching species veneered edge tape. If ordering matching interior cabinets stained or stain/glazed, these plywood shelves will be finished to match.
Drawer boxes
Drawer boxes are all 5/8″ solid wood and feature English dovetailed joinery. Each drawer box we ship to you is fully assembled, including a UV cured acrylic topcoat for extra protection. The standard drawer box species is a natural birch hardwood. For a drawer box with less natural wood coloration, you can select Hard Maple drawer boxes (additional charges apply). The result is a more consistent and lighter colored drawer box. All drawer boxes come prepared to receive the drawer slides you have chosen. There is no additional machining or extra work required.
Drawer Glides
Standard drawer glide is Blum's new and improved Tandem Full Extension model featuring their state of the art Soft Close feature and 4-way fingertip adjustability. All slides come in a poly pack with full installation instructions and hardware.
On inset cabinets, Conestoga will also supply a drawer glide mounting block made by Blum. These devices will allow the glide to be mounted behind the face frame which is required for the inset applications.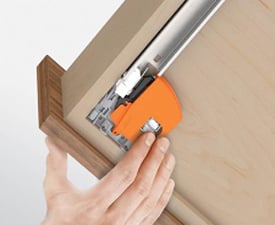 Blum Tandem Full soft close
Save
Save
Hinges and Hardware
Overlay Hinges are a Blum concealed cup hinges with integrated soft close. Inset hinges feature Blum's concealed cup hinge and mounting bracket for simple adjustment of your inset doors. Soft close is standard for this hinge.
Hinges are automatically supplied with your cabinets in the overlay of your choice, but you can request that no hinges and/or hinge preparation be supplied with your cabinets/doors and then supply your own. This is common in inset cabinetry where the customer may choose to use a finial style decorative hinge which we do not supply.
Blum Concealed Overlay
Save
Save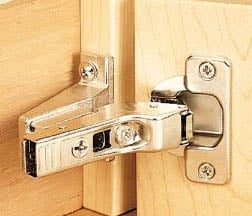 Blum Concealed Inset
Save
Save
Knobs and handles are not supplied and no preparation is done to the doors for hardware. Customer must supply hardware and drill the doors/drawer fronts accordingly.