Wood Species
Conestoga Wood Specialties offers many wood species to choose from for your ready-to-assemble cabinets. Standard species include Cherry, Hard Maple, Soft Maple, Red Oak and Paint Grade/painted cabinetry. You can also choose from a broad assortment of specialty woods such as Alder, Bamboo, Hickory, Pine, White Oak, Red Birch, Walnut, and MDF. Or if you are looking for a more rustic look, order knotty wood doors in Maple, Cherry, Oak, Pine, Alder, and Hickory.
Every piece of wood is carefully selected for grain and color match, meeting standards that are far superior than anything you will find at the big box stores. This means your cabinets and doors will have a consistent, even appearance throughout your kitchen.
Finishes
Conestoga's finishes are of unsurpassed quality, offering top-of-the-line sanding preparation and materials. All finishes are completed using a spray varnish topcoat for unparalleled durability. Conestoga's finishes meet or exceed every single industry-standard test for adhesion, stain resistance, etc. Choose from several types of finishes, including:
Unfinished: No finish is applied, allowing the customer to apply their own finish. Sanding options are available to remove light scratches that result from final profiling and wide belt sanding.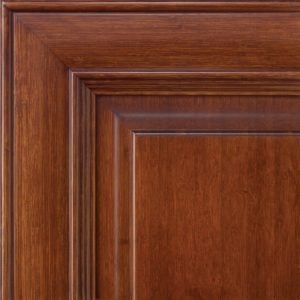 Stained using hand-wiped stains: Choose from several dozen standard wiping stains which, as their name implies, are applied using a wiped on by hand with a rag for deep penetration into the wood. These are available with or without glaze and can be top-coated in a low-luster sheen or a more traditional medium sheen. When glazed, a low-luster sheen is strongly recommended.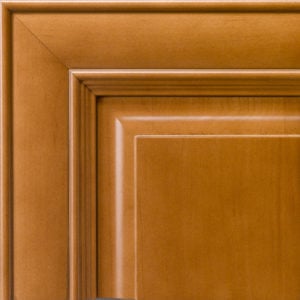 Stained using TruTone spray-applied stains: Some folks feel the hand-wiped stains result in too much contrast, because the stain soaks in some areas more than others. For a more even look, you can choose spray stains from the TruTone collection. These are available with or without glaze and can be top coated in a low-luster sheen or a more traditional medium sheen. When glazed, a low-luster sheen is strongly recommended.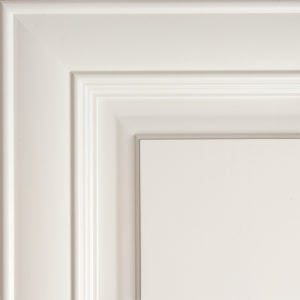 Painted using their standard colors: For painted cabinets, choose from standard 'Colortones' paints. These paints can be applied over paint-grade Hard Maple, Cherry, Oak, or MDF. These are available with or without glaze and are top coated in a low luster sheen.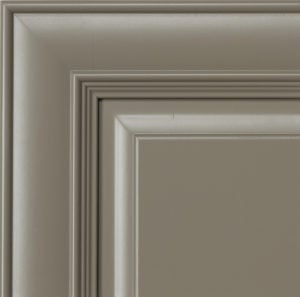 Painted using Prism paint collection: The prism paint collection is a huge selection of paints that match most Sherwin Williams paint colors. See the full collection of colors here  Please note: Custom Sherwin Williams Prism paint colors will cost approximately 20-30% more than staying within Conestoga's standard paint color offering (Colourtone).

Optional Finishing Treatments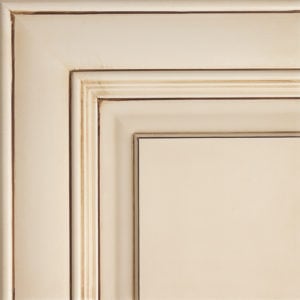 Glazing: Glazing is a secondary compound that goes on after a paint or stain. The glaze is wiped on the product and then strategically wiped off in order to leave some glaze highlighting the nooks and crannies. Generally, the glaze is of a different, complementary color than the paint or stain. This treatment usually adds about 10-12% to the price of your cabinets.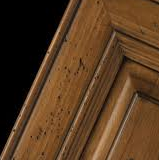 Distressing: Distressing is the application of age-enhancing wear and tear on the product. Several levels are available — ranging from light pings and dings to full-on heirloom distressing, mimicking bird pecks, worm holes, rasping and simulated panel/frame cracking. While distressing is not for everyone, it definitely has a place in a country kitchen, rustic cabin, and for reproduction cabinetry for a period home.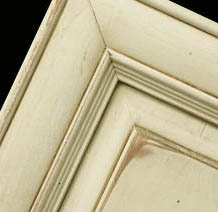 Antiquing: Antiquing is a technique used on painted surfaces where the paint is sanded through to reveal the wood below. This effect, available in both light and heavy applications, gives the appearance of aging, while also highlighting the solid wood underneath. If you like this finish, consider using value-grade cherry for a warmer, more aged look than maple.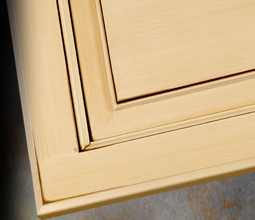 Brush stroke glazing: Very similar to standard glazing, this finish treatment leaves more brush marks on the surface. This works great for customers looking for a more handmade or rustic appearance.
Consider combining several of these optional treatments — including glazing, antiquing, and distressing — to get a unique custom look for your kitchen. See how different woods appear with the various glazes and stains on our To learn more about the finishing processes, materials, and specifications download the Custom Finishing Program PDF