2023 Kitchen Design Trends That Will Make You Fall in Love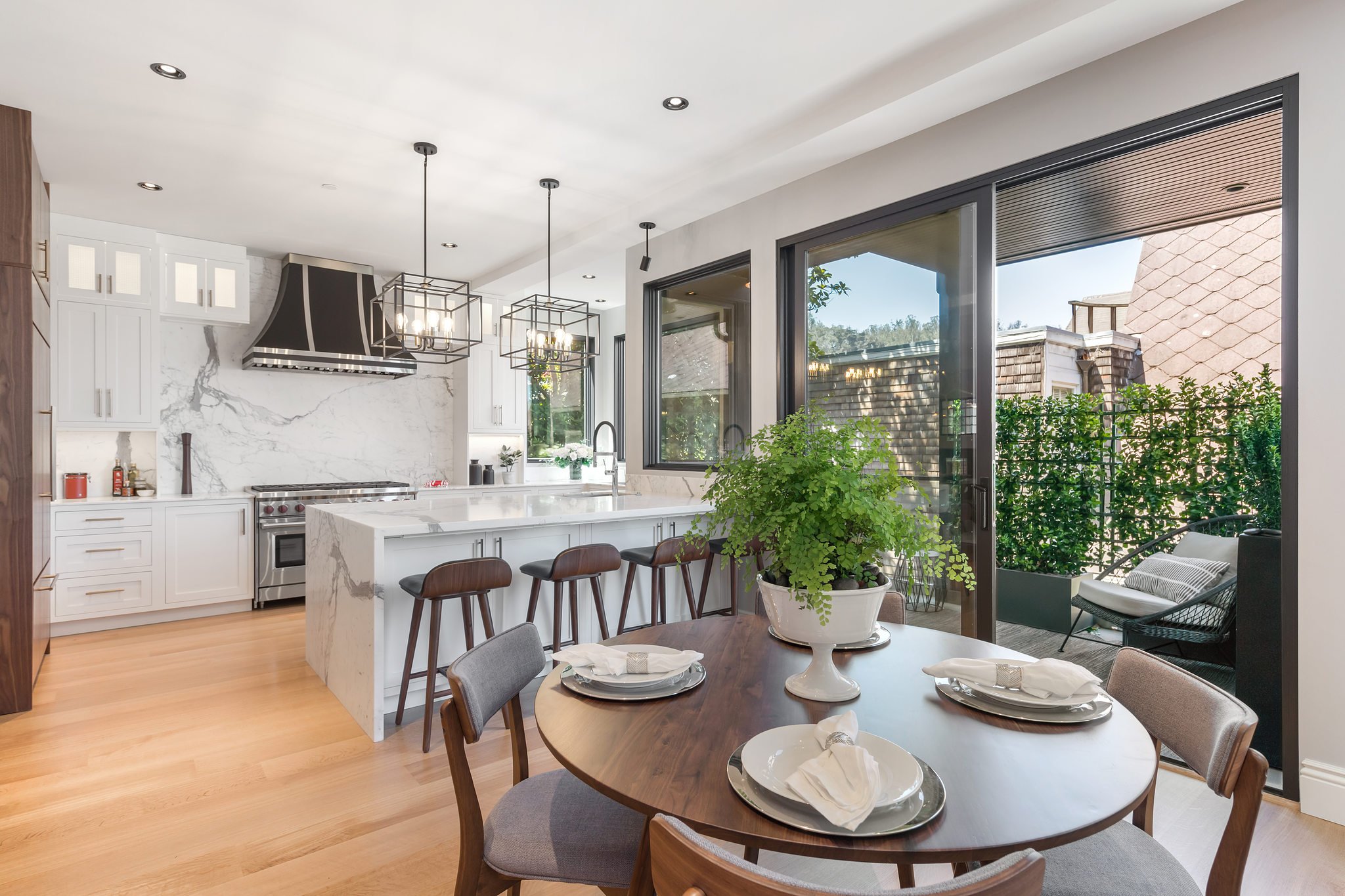 It is said that the way to a man's heart is through his stomach and that love connections start in the kitchen. As St. Valentine's Day draws ever closer, all you have to do is dream about this iconic place where love begins. We've got the specifics of your dream kitchen covered with this list of top 2023 kitchen design trends that can double as a romantic mixtape tracklist (so you don't have to make your own). Without further ado, let's see if we can't satisfy those hungry eyes.
Wouldn't It Be Nice
…to have a kitchen with room to dance? At the forefront of 2023 design trends is the desire for open spaces. For the foreseeable future, gone are the days of the kitchen as a closed-off room, big enough to accommodate only one person. In 2023, more homeowners are embracing open kitchen concepts by breaking down walls and expanding into adjoining rooms to increase the square footage and hospitality of their kitchens. One space-creating solution that is seeing a rise in 2023 is the inclusion of sculleries and butler's pantries. A separate space to prep and store food, or house that private coffee nook you've always wanted, potentially without having to tear down any walls.
That's Where It's At
Increased functionality sees a place on the docket of 2023 trends. Along with more space comes bigger islands, or even double islands, so that you and yours will never run out of space for all your creative cooking and baking ventures. So much island space also makes for natural and inclusive hosting, as guests will feel right at home chatting at your counter while delightful scents waft from the range nearby. This year's design reports also note the inclusion of small appliance work areas, such as a mixer alcove hidden in your cabinetry, or maybe a designated bar area to add visual interest as well as usefulness to your kitchen.
As Time Goes By
When it comes to building a home that will last a lifetime, one might consider a kitchen layout that will serve them through their lifetime. One way seniors are preparing for a long, happy, independent future is by designing a space that will remain accessible, even with anticipated changes in mobility. For instance, the convenience of a base-cabinet-heavy kitchen ensures that everything stays within reach. The serviceability increases even more with the inclusion of drawers so that there might be more uncluttered storage space without unnecessary bending and reaching. Open space has a purpose here, too, as clear-floor space means easier maneuvering and open walls mean more space for windows and natural light.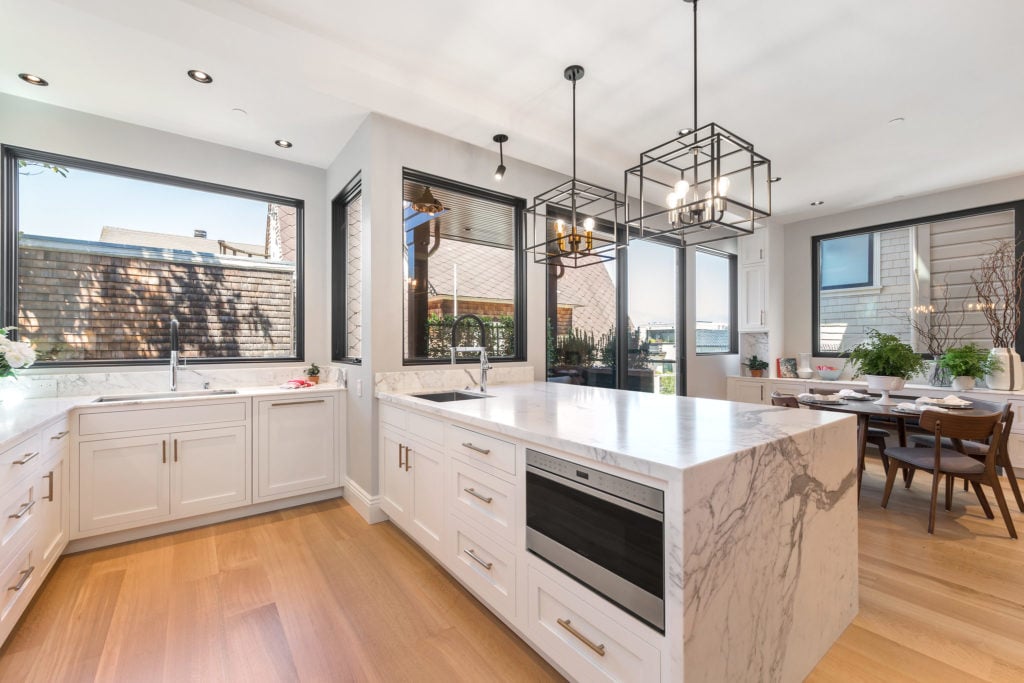 I Don't Want To Set The World on Fire
Efforts of more environmentally conscious consumers, among other things, mean bigger, brighter windows! Incorporating natural light can help save on electrical bills in the long run, leading to a more sustainable home set-up. Of course, having a lovely view of your outdoor space won't hurt either, and allows you to cook and bake and enjoy your world all in one swift motion. Another way homeowners are creating more environmentally sustainable and budget-friendly homes is by installing electric radiant flooring, which can help to save money by decreasing the number of watts/hour it takes to heat your space.
You Make Me Feel So Young
Frank Sinatra could have been singing about updating your home with technological solutions because you, too, will feel so young when touchless appliances afford you extra time to play. The technology becoming more popular in 2023 kitchens would allow you to conduct everything from lighting, water, heated floors, ovens, and more with a simple tap on your phone or through voice commands. Additionally, smarter appliances can look like less clutter– making integrated features like oven-based steam cooking systems and air fryers more desirable.
She's a Rainbow
After reigning the scene for years, neutral colors are slated to take a backseat in 2023 as bright colors and a myriad of mixed patterns claim the favored spots on your cabinets and backsplashes. Blues are thought to make the biggest splash in 2023, with earthy and muted greens in close succession (sure to be found in this gallery of woods and finishes Cabinet Joint offers). The allure of white in the kitchen will stick around in 2023, coinciding with the present pull toward light-colored countertops. Bold colors and patterns, handmade accents, fun splashes, and wallpapers can all add that little pop of drama so highly praised in our 2022 Kitchen Of the Year contest.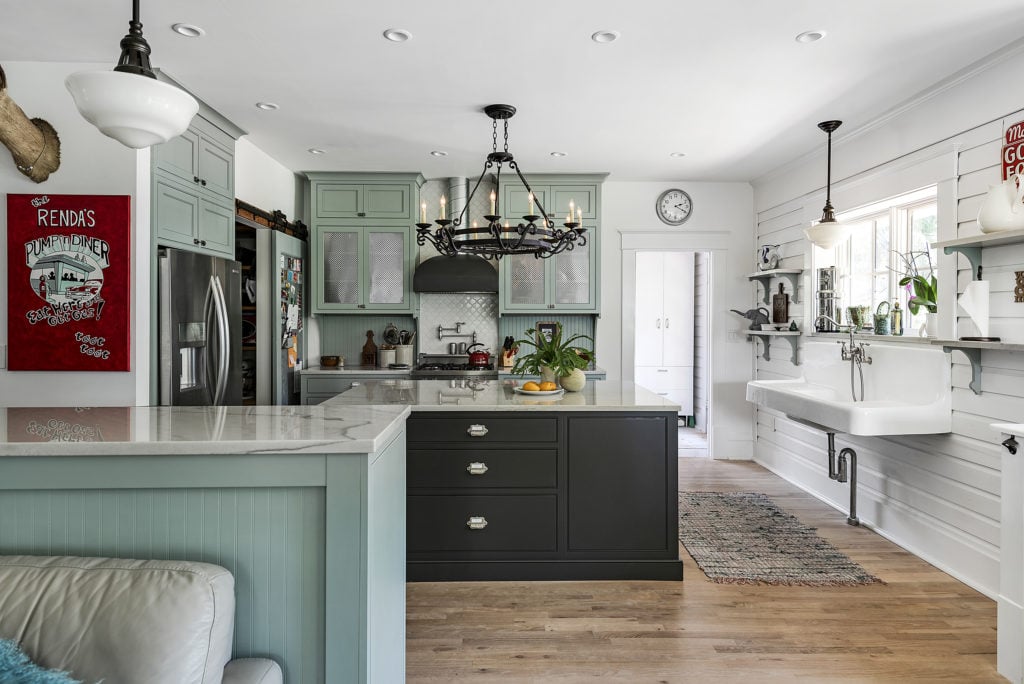 Fever
Peggy Lee may have made fevers sound appealing, but in truth, homeowners are avoiding this unpleasantry by prioritizing wellness as they design their dream spaces. Touchless appliances naturally increase sanitation and functionality, too. With all you do in the kitchen, you don't need tasks like pushing on the faucet with your elbow every time your hands are sticky– that's what motion-sensor faucets are for! Quartz and quartzite counters and island tops pose a stylish option for wellness-minded individuals, as their nonporous compositions are easy to keep clean from germs and stains. And, with all the breakthroughs in technology these days– UV light disinfecting devices, it's all too easy to lose sight of tried-and-true methods like trash can pullouts.
I'm Beginning To See the Light
As classic and affordable as natural light is, it is not always feasible. For some of us, opening our walls to the outside world looks like watching our neighbor do unspeakable things (he thinks those curtains match that couch? Puh-lease.) A predominance of artificial light might be the way to go for your home– in this case, 2023 design reports would suggest that ambiance can be made with recessed lights and pendant lighting. Chandeliers are on their way out, but an eye-catching solution for your home might look like accent lighting along some open shelving and task lighting beneath your cabinets for increased functionality as well.
Take Me Home Tonight
Sometimes what evolves a house into a home are warm touches here and there that remind you of the homes you used to know, the ones your grandparents made. In 2023, this effect is sought after by way of furniture-style cabinets. Adding decorative feet to your cabinets' toe-kick areas can give your base cabinets the appearance of classic hominess, a nod to when most people relied on free-standing furniture, but without all the hassle and lack of standardization. Overstated hardware is also desirable for the year ahead and dually serves to turn your cabinetry into the homey focal point of your kitchen.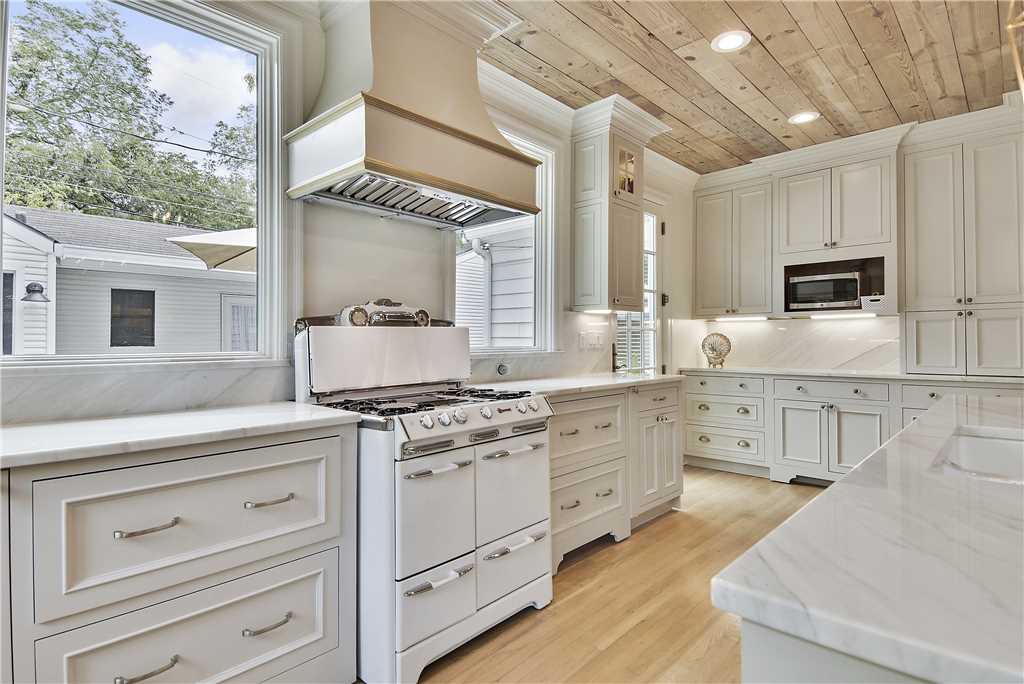 At Cabinet Joint, we believe kitchens (and all rooms) should be built to endure and stand the test of time and continue to serve you the best way possible through the years. Not all of these trends– though based on research reports and opinions of design pros– may be desirable to your tastes or applicable to your house. We know our clients are more than capable of discerning what looks good for their homes, especially with the help of our talented design team. Should you desire to update your home spaces either to keep up with the times or to match your own eclectic, acquired style, Cabinet Joint has offerings that will take your rooms to the next level.