Kitchen of the Year (KOTY) Round-Up
Between December 1 and December 11, our @cabinetjoint Instagram account shared 11 gorgeous kitchens that have been assembled and completed by Cabinet Joint customers in 2022. The fates of these spaces were put in the hands of you, Cabinet Joint enthusiasts, who voted for your favorite kitchens on Instagram.
Across these 11 kitchens, there were some similarities that reveal the overarching trends in interior design from 2022, such as bold color palettes and sleek, open spaces. It was a compliment of the highest order for one of these kitchens to be called "dramatic" or "high-contrast" in its comment section. However, what makes each of these Cabinet Joint kitchens so notable are their customizations– how each DIYer works with the same options and returns so wide of a breadth of creativity and looks. It is this potential for personality that had Instagram users excitedly swapping tips and pointers in the comment sections, as well as those who had to know where they could find our cabinets.
Without further ado, here is a round-up of our top 11 Cabinet Joint kitchens of 2022!
Kitchen Stats: Cabinets– Flush Inset (overlay on white oak wall); Doors– Slab MDF and Savoy; Finish– Arctic White Colourtone; Wood Species– Rift Cut White Oak w/ natural finish
The sleek, modern look of this kitchen by DIYer Sweta (@sladwa16) makes a striking statement with a subtle palette by way of its broad cabinets, wide drawer storage, and clean lines. The effect is best summarized by commenter @johnzoppina who wrote, "…I never thought flush inset cabinetry could really achieve anything other than a 'traditional' Look, and this totally proved me wrong. This one is amazing." Two-toned wall storage and a tiled wall look keeps the eye engaged while the elegant color combination of white and white oak creates a hushed sense of serenity. Additionally, several admiring commenters addressed the lovely modern contrast created by the warm tone of the wood against the clean white background of the kitchen. @hodgsonstefanie specifically commented, "The added wood finished cabinets adds a LOT of dimension and interest 🔥". Though employing several features of a classic kitchen, such as flush inset cabinetry and a simple color palette, the way this kitchen remodel was approached is nothing short of innovative.
Kitchen Stats: Cabinets– Flush Inset; Doors– Albany (with slab top drawers); Finish– Frosty White Colourtone; Wood Species– Standard White Oak w/ Alpine finish
This kitchen from @ashwoodcottage exemplifies again how one can take traditional ideas and infuse them into a modern design. On paper, this kitchen could sound similar to the last kitchen introduced. However, the creativity of Cabinet Joint DIYers is never ceasing, and here we see a more rustic and earthy area with the addition of a more pastoral stone backsplash and vast windows that visually open up the room to the outside. Natural light, neutral color tones, and an arched door provide a serenity that did not go unnoticed by Cabinet Joint followers, who were quick to compliment the Frosty White Colourtone finish and the sweet cottage feel of this space. We think the natural characteristics chosen by @gracejsilla evoke thoughts of a cozy lived-in space, while the coolness of the tones add chicness to the extreme. Furthermore, @becksemerson graced this kitchen with the greatest compliment available to a 2022 kitchen, writing, "The wood tone bringing the drama to this space! 😍"
Kitchen Stats: Cabinets– Overlay; Doors– Albany; Finish– SW 6209 Ripe Olive
We at Cabinet Joint, like anyone else, are not resistant to the feelings a good farmhouse remodel can bring. This kitchen by @theallikelley gives us the warm fuzzies with the original, dark, sweeping wooden floors of this farmhouse as well as a playful contrast between the olive finish of the cabinets and white covers of the fridge, double ovens, dishwasher, and sink basin. Along with this space's cozy size comes a whopper of base cabinet storage, a custom island, and a coffee nook that can wake you up on sight. Commenters of this post largely were amazed by the way Alli successfully incorporated such a daring green, with @laleewill admitting, "Feeling a little green with envy. 💚" Many were inclined to praise the clever and careful use of space. @trishluna5 said, "Love to see the challenge of smaller spaces done so well 😍", and we understand that envy is the natural reaction to such a lovely farmhouse kitchen as @lovnrockvillelife also commented, "Great use of space and jealous of all that natural light!"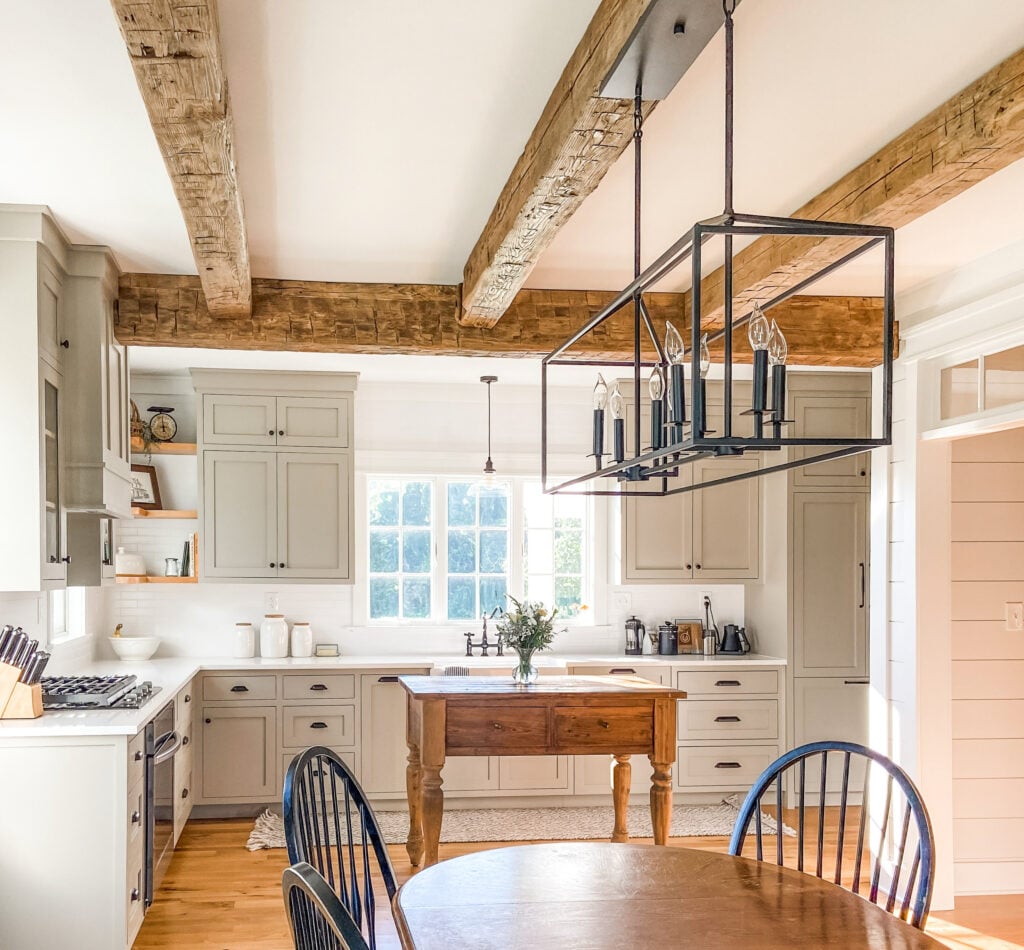 Kitchen Stats: Cabinets– Inset; Doors– Albany MDF (with slab top drawers); Finish– painted by the customer on site (Behr Woodland Sage)
Part of the allure of a farmhouse remodel stems from all the character that comes with the infrastructure of the house. In the case of this kitchen by @oldsycamorefamilyfarm, the exposed wooden beams in the ceiling above were a common attraction for Instagram viewers' eyes. And how could they not be? Natural and bold, and made to engage beautifully with the soft color palette of the rest of the kitchen– "Soft palettes look great against the rusty beams", wrote commenter @jarjourpottery. By some magic, these DIYers incorporated that sought-after 2022 contrast without invoking so much drama, just eye-catching features softened by a pleasantly pastel palette. @popchikapop shared their support by saying, "Love this. Love the color of the cabinets, the moulding, and the upper cabinets. Love, love, love!" Upon seeing this kitchen so beautifully done, some Instagram commenters were all set to come over, like @bymegancannon who wrote, "This just makes me want to bake something 🙌"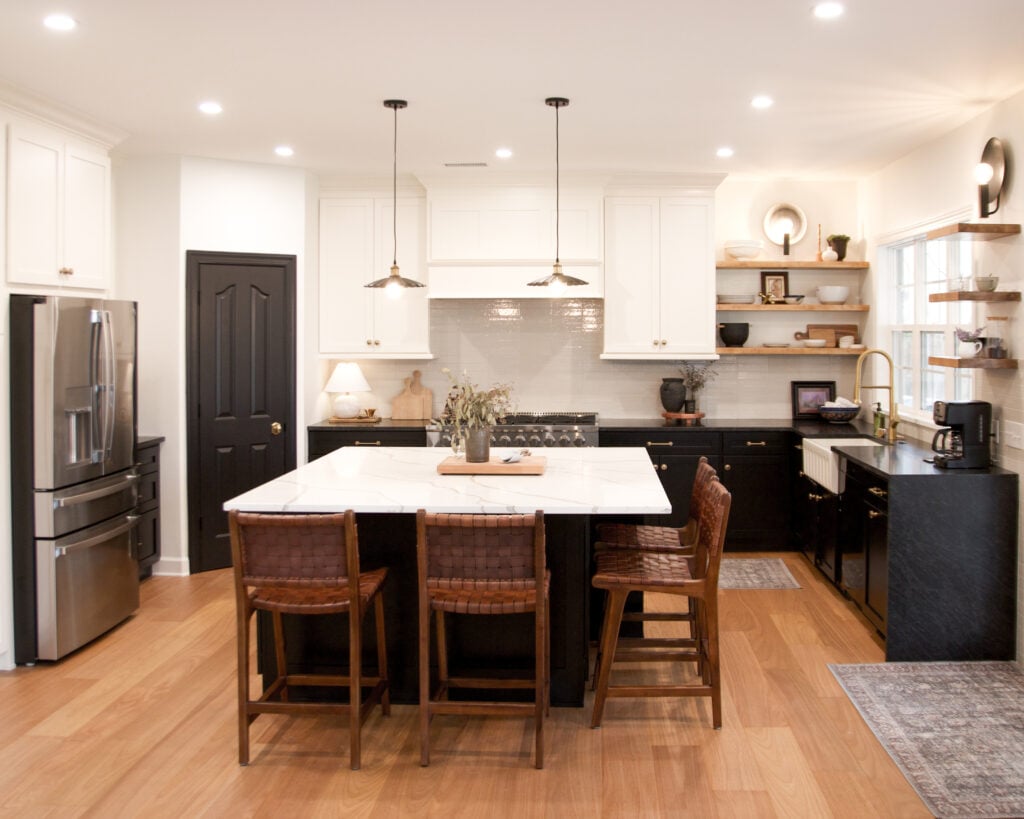 Kitchen Stats: Cabinets– Overlay; Doors– TW-10 MDF; Finish– Crystal White & Ebony Colourtones
'Drama' and 'contrast': these were the phrases most predominantly used to compliment each 2022 KOTY contender, and consequently capture what is most appealing in a kitchen from this past year. Arguably, no kitchen better demonstrates the maximal power of these qualities than this one by Jennifer (@dont_should_on_me). High-contrast cabinetry is brought together by a warm-toned wooden floor. Viewers admired the mixed combination of gold and chrome hardware around the room, such as the gold handles on the cabinets, the gold sink spout, and the chrome fridge, oven, and stovetop. @lrkes wrote in particular, "I love the gold hardware on black. Very classy!" It's details like these that also serve to unite the stark difference of bright wall cabinets and dark base cabinets. @taylorstehmeier addressed the care and skill it would take to tie together such a varied color palette by writing, "I love how they tied it together with the brown woven bar chairs", chairs which do perfectly complement the warm-toned wooden floors. Along with several admirers, Jennifer herself also spoke to the effect an island can have on the layout of the kitchen: "it makes such a huge difference in this space! Our prior island was shaped weird and much more narrow – basically not functional for us – just changing the size of the island made it look like we changed the entire layout of the kitchen (but we didn't 😉)".
6. Did Someone Say White and Wood?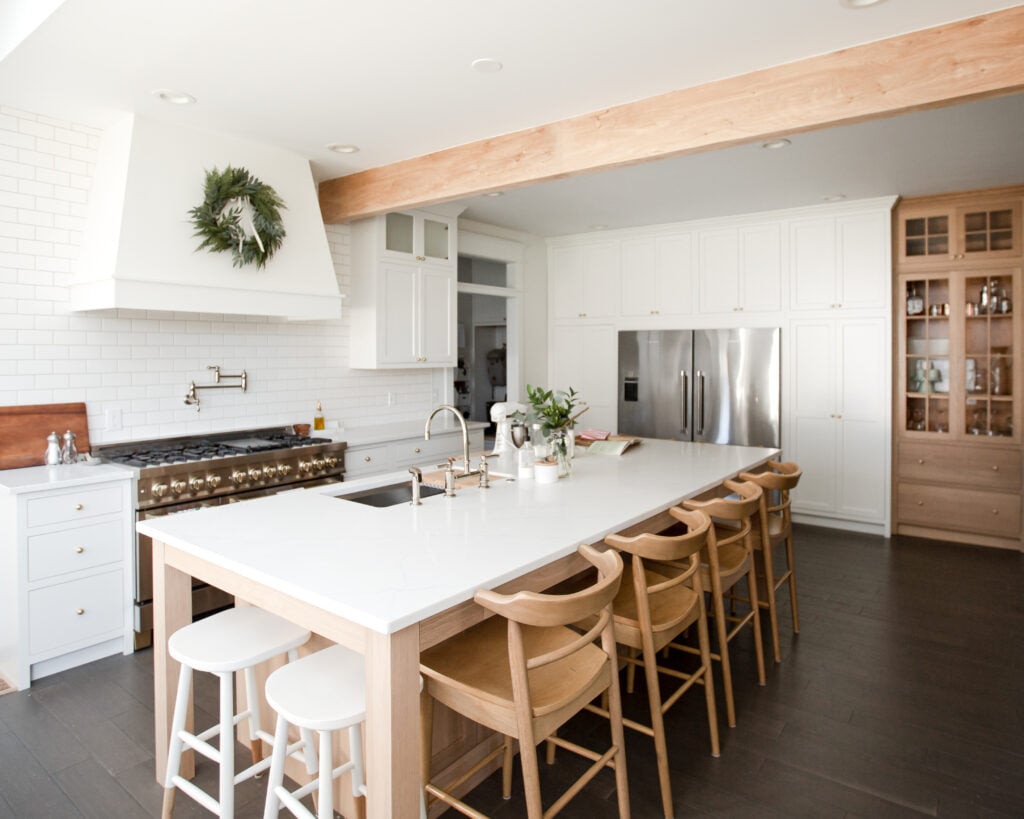 Kitchen Stats: Cabinets– Inset; Doors– TW-10 (CRP-10 on island); Drawer Fronts– Slab; Finish– Frosty White Colourtone; Wood Species– Rift Cut White Oak (island)
What do you get when you combine lots of white and natural light? The answer lies just before you in this lovely, open kitchen space which bounces light from its wide windows across every surface in the room. A white tile backsplash, white finish, white walls, white island– all this white is framed beautifully by a dark wooden floor, serving that high-contrast drama that is worth writing home about. Yet, to many commenters' appreciation, this polarity is impressively mediated by the warm-toned oak of the island and the tall chairs, coordinating perfectly with the gold hardware of the cabinet handles and the range control knobs. @amtpleasant praised, "What a light, bright kitchen! It's nice that the wood warms it up," to which @natalieberthiaume agrees, "I like this one – it's light and bright without feeling sterile. The white oak brings the warmth!" Despite the simple color palette and intricate coordination, "The oak really keep [sic] things from feeling too one-dimensional," commented admirer @brennathibault. In terms of utilizing the natural features of a room, such as an abundance of sunlight, these DIYers exemplify pushing natural barriers by using white to carry the light all throughout the space.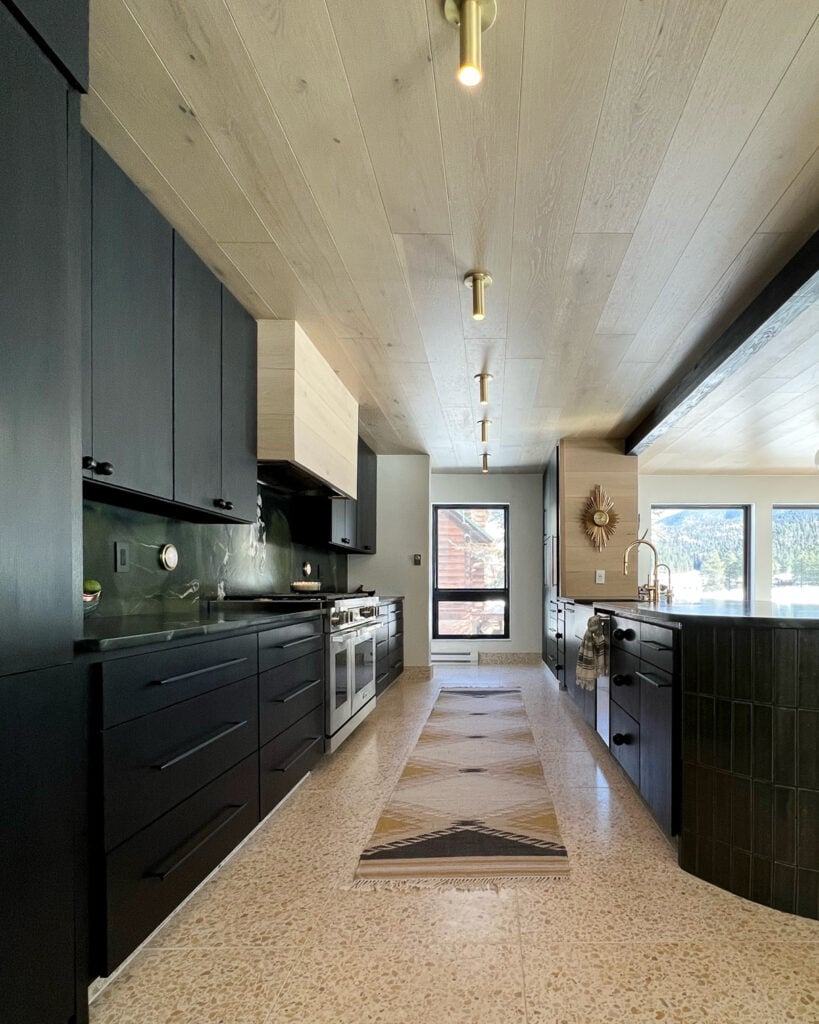 Kitchen Stats: Cabinets– Overlay; Doors– Savoy; Finish– painted by the customer on site; Wood Species– Rift Cut White Oak
All that drama you called for? It's right here. This kitchen departs from the stark contrast trends of 2022 and makes something unique out of a classic look while exploring a variety of textures in the process. One instagrammer @aleeceisme addressed the care put into this combination of texture and color in a comment saying, "This one has a lot of thought put behind it! The backslash [sic] and counter are impressive!" With the bright light wood of the ceiling and the pebbled tile floor of the exact same hue, these DIYers were enabled to pursue a bolder color set for the rest of their kitchen space. The rift cut, charcoal-colored cabinets provide a sleek texture variance from the marbled look of the backsplash and the island, and the tile along the underside of the island. Though unique, some characteristics of the space reminded commenters of the kitchens of their past, like @marydayeh, who wrote, "Very moody! The tile reminds me of my great grandmother's kitchen 😍". This kitchen exemplifies the personalized beauty of remodeling– it reflects the taste of the people who put it together to a tee, an eclectic blend that seems to draw from a span of sources, and united by the style of those who will be enjoying it for years to come.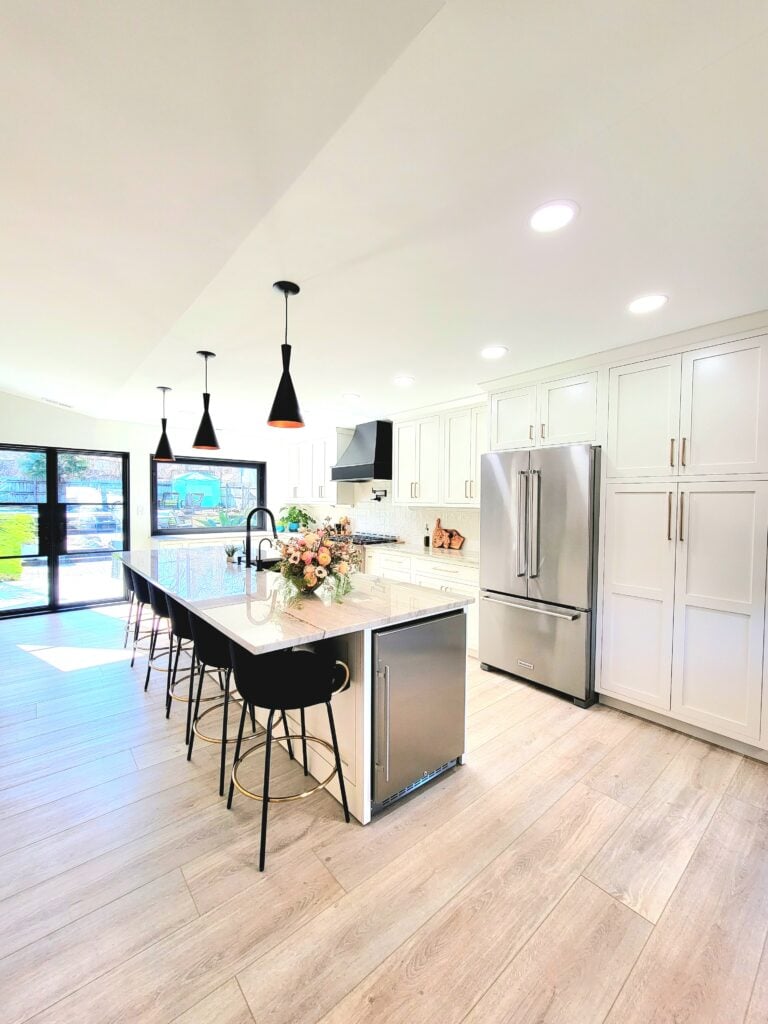 Kitchen Stats: Cabinets– Inset; Doors– Albany MDF; Finish– Frosty White Colourtone (Ebony for the bar)
In this kitchen with an abundance of space, @artisticbynaturemoss leans into the openness of the room by leaving lots of white space wherein the natural light from the windows can bounce around, and any accent pieces are given the authority to create that contrast and drama so admired in the interior design of 2022. @rachel_e_harris bestowed the compliment of the year to this kitchen with her comment, "Those countertops are gorgeous! Here's a white kitchen with some drama!!!" With subtle contrasting details such as the black barstools, lights, and range hood, the daily enjoyers of this kitchen have the choice to customize this room's personality any time they want by adding even a polite splash of color as a decoration. This choice was, of course, fully intentional: @artisticbynaturemoss wrote of their kitchen, "We love our quartzite, and the splash of unexpected in the space." Many commenters left admiring notes such as, "Classic", "Luxe", "Elegant", and even "Sexy", and the brightness of the space did not go unnoticed. Along with the multitude of comments praising the bright and elegant look of the kitchen, the functionality of this kitchen's layout also garnered attention. @artisticbynaturemoss wrote to this effect that "I'm sooo thankful I went with mostly drawers and not cabinets. Cabinet Joint was amazing to work with in that regard".
Kitchen Stats: Cabinets– Inset; Doors– Albany MDF; Drawer Fronts– Slab MDF; Finish– (ordered unfinished) painted on site by the customer
A departure from the delectable drama of contrast that many strive for in their kitchens, the theatrics of this black-floor, white-wall kitchen are peacefully muted by the mediating effect of lovely, soft green cabinetry. The color choice, which was completely personalized by husband and wife duo @down_east_durham, demonstrates how character can be packed into a kitchen by ordering Cabinet Joint's unfinished cabinets. Originally built in 1925, this still-retro update was much appreciated by Instagrammer @the_revived_home who wrote, "Oooh beautiful color and such a soft and natural feel in this kitchen. Like it's always been this way". Along the vintage strain, several users delighted in the rare appearance of a cookbook nook, a nod to the kitchens we occupied in our youths. After all, kitchens are not simply stagnant spaces. They are meant to be filled with lively activity, stirring scents, and the people who make our houses into homes. These are the spaces where many first memories are made, and consequently, a subtle nod to the past such as the inclusion of a cookbook nook can resonate with many and remind them of the sweetness a kitchen can bring.
10. Bright and Beautiful– @chelsealotz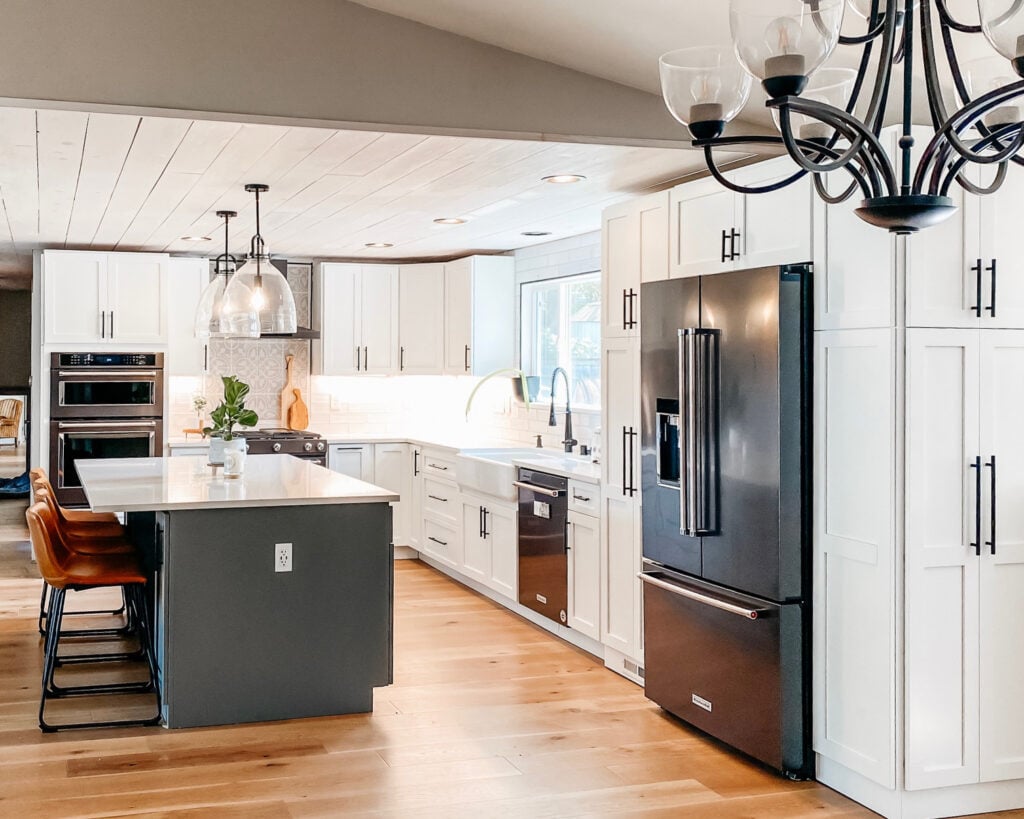 Kitchen Stats: Cabinets– Overlay; Doors– Albany MDF; Finish– Arctic White + Metropolitan Grey (island)
The color palette of this kitchen is undeniably classic. It finds the stylish medium between serene and striking with white ceilings, warm wooden floors and light brown leather island seats to boot, white cabinetry, a gray-painted island and dark hardware. The gray and white patterned backsplash behind the range hood adds a cohesive but engaging touch. If the big look of 2022 was high-contrast drama, this kitchen pulls itself together with a more amenable kind of drama, like playful gossip. Many users found nothing but love for this kitchen, and there was overall a lot of agreement on all that there was to admire. Some comments that reflected the loves of the majority were @actorbett who wrote, "Love the wraparound cabinets by the fridge!" and @jesskempisty, "Love the layout and amount of cabinet space". For some, this DIYer's utilization of their available space was most commendable, as surmised by @callsigndesign who wrote, "I love the tall cabinets at the end! Great use of space". The brightness of the kitchen, hardly touching on any dark colors, was also not missed by commenters, along with the lovely and visually interesting backsplash.
11. Tasteful Combination: Whites, Blues, and Wood
Kitchen Stats: Cabinets– Inset; Doors– Crawford (slab top drawers); Finish– Frosty White & SW 7624 Slate Tile (island + drink bar)
'Inviting' is a good start to describing this warmly and creatively lit, colorful space. Inviting, inventive, and involving a variety of textures and hues, this kitchen combined our custom Slate Tile Prism finish with some white inset cabinetry, a gray stone backsplash, all to be warmed up by a reddish-toned wooden floor and pleasantly cozy lights coming from beneath the shelves and island. @marydayeh, who wrote, "Those shelves are gorgeous! 😍😍 So interesting to see a kitchen with two islands/seating areas!" illuminated an intrinsic factor which makes this kitchen as inviting as it is, which are the double seating areas! The inclusion of both a peninsula and an island makes this kitchen an oasis of comfort for all who may inhabit it, and of course provides more space for storage and ease of use. The bright and correlated diversity of this space along with its impressive amount of storage made it a hot contender for KOTY 2022, as concluded by commenter @casa.melendez who noted, "Very good flow and use of space!"
Your Feedback
Your feedback across four days of voting from December 11 to December 15 revealed kitchen #8 (A Modern Twist) as the official Kitchen of the Year 2022! We understand that the personalized drama and contrast of @artisticbynaturemoss is irresistible, especially because the built-in features of the space allow for constant creative opportunities, which is what it's really all about.
A kitchen is a personal space, unique to each house and family. We see this in the kinds of music that plays while we cook, in the scents that waft from the kitchen to the rest of the house. It's the center of the home, where friends and family gather from near and far. While the relevance of high contrast cabinetry and hardware are indisputable in these fabulous 2022 creations, this year's KOTY series leaves no doubt of the incredible variances and personalizations that can come from a few key choices. Across the wide range of spaces featured, there was seldom a kitchen that wasn't claimed by a commenter as their dream kitchen.
Follow @cabinetjoint on Instagram to catch the full 2022 KOTY series and to stay apprised to all that 2023 brings. Who knows? Maybe it will bring you inspiration, a chance to find DIYers with similar tastes, and the possibility of your own hard work and unique designs featured on our page.