Conestoga is Making it Easier to Give Your Next Project a Real Design 'Lift"!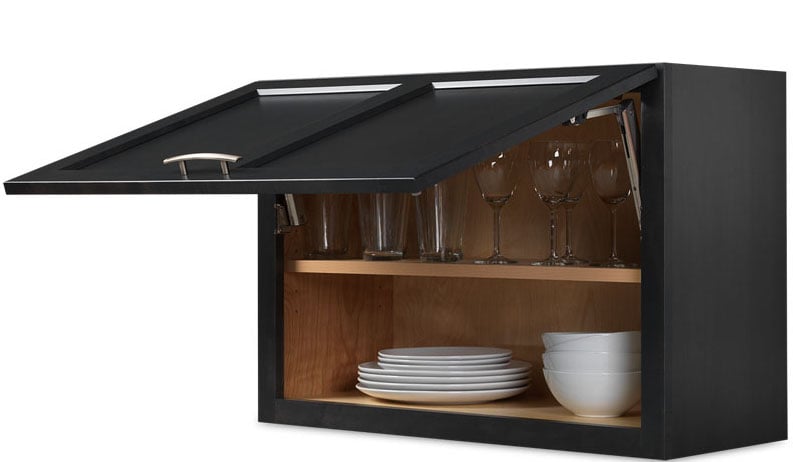 Conestoga Wood Specialties Offers Innovative Blum AVENTOS HK-XS Open-Upward Cabinet Door Lift System
Lift hardware, an approach to opening cabinets upward made popular in European kitchen design, is really catching on as a practically functional and visually engaging idea here in America. At Conestoga, ready to assemble wall and tall refrigerator cabinets are now available with preconfigured Blum AVENTOS HK-XS Lift Hardware included.
AVENTOS HK-XS lift hardware provides "open-upward" door operation that lends a distinctively European charm to kitchen design. These lift doors are easy to install, utilize conventional hinges, and are economically priced.
Ready to assemble, Conestoga provides the appropriate hardware and either one- or two-lift mechanisms based on the size and weight of the doors specified. Plus, doors for these cabinets include concealed hinge boring on the top rails.
Jeff Eichenseer, Conestoga Director of Marketing & Product Development, had this to say: "These upward lifting cabinet doors are just plain neat – and practical, as well. And the Blum AVENTOS HK-XS hardware system we use is top quality yet very economical. We offer a range of wall cabinets and three different refrigerator tall cabinets with lift hardware included. They're not as common here in America as they are in the European market but, at Conestoga, we're taking the guess work out of lift door cabinetry. They're clearly an exciting addition to the choices designers have for taking their projects to a higher level."
Give your next kitchen design project an uncommon lift with Conestoga's upward opening cabinetry featuring Blum AVENTOS HK-XS Lift Hardware!