Not Only is Conestoga Wood Specialties, Our Vendor, a Great Place to Work. Apparently, it's Also a "Well" Place to Work!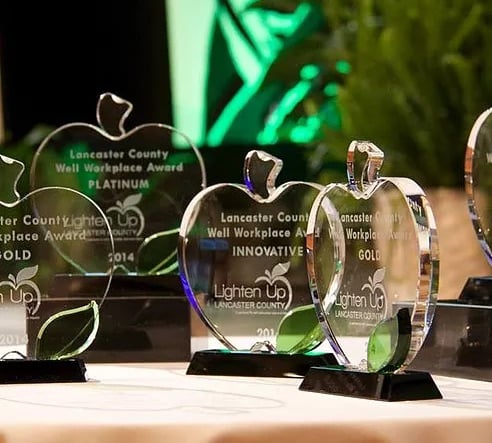 Conestoga has made it in the news lately as a company whose stance on "after the fact" abortive birth control (IE: Morning After pills, etc) brought them before the Supreme Court. They won their case that Obamacare could not force them to pay for abortive procedures by their employees. This brought a rash of criticism from many who errantly claimed that Conestoga was not 'for' for their employee's health, forcing them to accept 'subpar benefits'. The article below shows just some of the lengths Conestoga goes to create a life of "wellness". This sure does not read like an arrogant, repressive company to us…
Conestoga Wood Specialties is the recipient of a Lancaster County Gold Award for Creating a Culture of Health
It's no secret that, when people love their jobs and where they work, they excel. And, although maybe tired and weary from a good day's work, they generally cross through the gates headed for home with a special sense of accomplishment, personal pride, and reward.
Conestoga Wood Specialties is one such workplace where, more often than not, that's how it is. Like so many companies around the nation, Conestoga not only values the skills, talents, and sheer hard work of their employees, they also want them to be well, on all levels. That's why Conestoga senior management and human resources and benefits managers set out to proactively promote employee wellness and quantify and qualify their effort's success through participation in a bona fide well-respected official program.
To achieve their goals, Conestoga's Benefits team sought out a program that would help them measure their current workplace wellness condition and guide them to the highest level of overall employee well-being. Conestoga turned to the Lighten Up Lancaster County Coalition which, in partnership with the Central Penn Business Group on Health and LiveWell, is a joint effort that helps companies of all sizes follow employee wellness best practices and make them not just great places to work, but well places to work.
The workplace wellness program requires companies to complete a Workplace Health ScoreCard, which is a comprehensive assessment tool developed by the Centers for Disease Control & Prevention (CDC) that compares a company's current programs with best practices and guides them towards the most important improvements that need to be made, tracking progress and comparing them to other work sites nationally in order to improve employee well-being.
Conestoga participated wholeheartedly and the outcome was, quite literally, gold! Conestoga has been awarded the Lancaster County Well Workplace Award – Gold Level. But to Conestoga this is more than an award of recognition, it's a state of being…of well-being!
Anthony Hahn, President, expressed, "Back in 1964, Conestoga Wood began crafting the highest quality wood components for custom kitchen cabinetry in a small Lancaster County garage. Today, we have state-of-the-art equipment as well as hands-on craftsmanship continuing to craft the highest quality wood components in the industry.
"But, from day one, we've always realized that it's our people that are our most important 'assets.' That's because the best tools are only the best when used by the hands and minds of the best people. Period! And we're very fortunate to have them. For all the awards we've won…for all of our accomplishments as a company…what we cherish most are our skilled, talented, committed people…at all of our sites.