Conestoga Introduces Media Cabinets!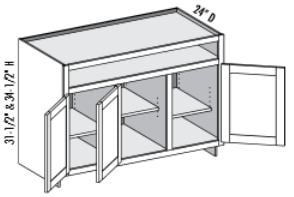 Conestoga has recently announced the addition of several Media/Entertainment cabinets to its line of Home Office/Entertainment RTA cabinets. These cabinets are ideal to house your electronic components and are wide enough or even the largest big screen TV. The cabinets are available in custom sizes as well, just like Conestoga's other cabinets. When used in conjunction with their open bookshelves, wall counter cabinets, fluted columns, valances, and trim moldings, you can create truly a stunning entertainment area for your home. Keep in mind that we can even do solid wood countertops to match your cabinetry for a truly high-end look! Also, be sure to consider the Flush Toe option or furniture style feet to create a 'furniture-like' look to your entertainment center.
To find out more about the new media cabinets, check out the catalog by clicking the link below or just give one of our product specialists a call at our toll-free number: 888-211-6482
We have the cabinets you need to create an efficient, luxurious workspace! We also carry a great selection of media cabinets for your next entertainment/media center! Custom sizes are no problem and cost you nothing extra. Below are just a few of our many Home Office and Media cabinet options.