Ready, Inset, Go: Erin Zubot's Journey to the Cabinets of her Dreams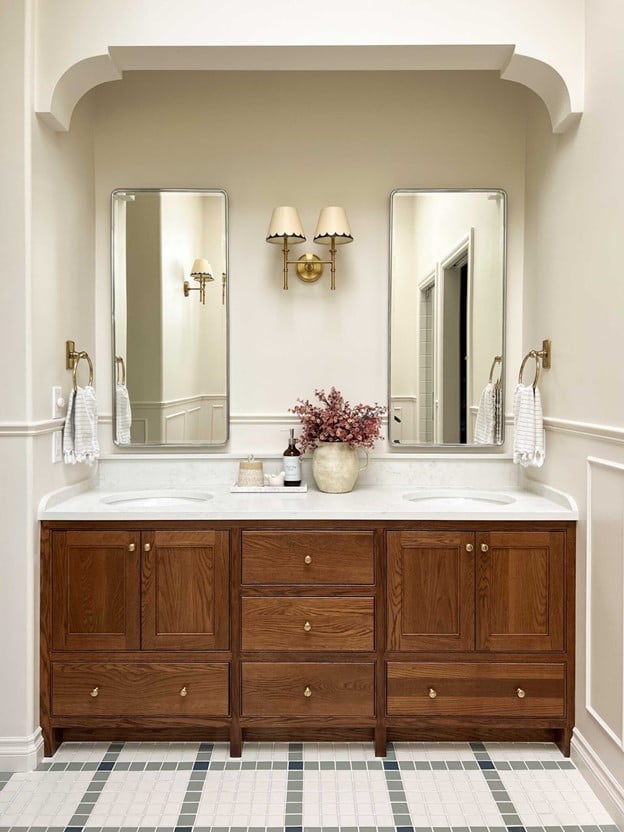 DIY RTA Inset Cabinet Experience with Erin Zubot
Erin Zubot recently published a review of her experience installing Cabinet Joint cabinets as part of a renovation of her bathroom. Though Erin has always loved the look of inset cabinetry, they are uncommon where she lives in Red Deer, Alberta, and she has never before been able to find anyone to supply them for her various decorating and renovating needs. That wasn't the only obstacle, however– while renovating older homes, many will find that if there are spaces dedicated to built-in cabinetry, they are seldom able to fit the standard cabinet sizes we can buy off the shelf today. Erin knew she had to go custom, and she knew just the place to do it. 
"When I was working on the design of the kitchen in our last house in 2011, I brought a photo from a magazine of inset cabinets to every cabinet maker in town. NO ONE was willing to do inset cabinets. They are a really rare thing where I live. […] When looking into custom vanity options for this bathroom design, I remembered hearing about a company called Cabinet Joint."
The process of designing the right fit for Erin's bathroom alcove went smoothly. Knowing she wanted inset was a helpful start, but ordering variety pack samples of oak and walnut wood types and stains further helped her narrow down how to achieve the rich look she had in mind. It was easy to get started – requesting a quote from our website connected her with her Cabinet Coach, Jim, who was also a great help when it came to making changes and updates to the order. Erin ended up choosing beaded inset cabinets for their elegant detailing around the openings in the face frames. The Madison door she chose is a perfect compliment, with beading on the framing around the center panel. Slab drawer fronts complete the look for a sleek and sophisticated adaptation of a timeless heritage style.
"Jim gave me a rough quote for my custom oak vanity with the selections that I had made via email. I went back and forth a few times with Jim, requesting changes to the drawer sizes, the cabinet size, the stain, the door style, and the legs. Each time I made things a little different, and Jim patiently updated my quote and answered all of my questions about installation and price differences."
Erin modeled her customized vanity after classic and historic cabinets she saw around Europe, but because CJ cabinets are completely customizable, she departed from the typical style and added extended legs to the cabinet design. Though custom cabinets take longer to get to you through the processes of designing, ordering, and being made to your individual specifications, Erin writes that familiarizing yourself with Cabinet Joint's video library would be a useful and wise thing to do with the time you have before the cabinets come. Cabinet Joint's far-ranging library of helpful video tutorials is part of what sets our company apart, as we offer a lot of support and guidance when it comes to assembling your own RTA cabinets.
"My number one tip here is to determine which videos you need for your cabinet installation and then to watch them ALL before you proceed."
A Do-able Cabinet Assembly Process
Erin describes the assembly process as straightforward, as CJ provides everything you'll need. Though putting the cabinets together and setting them into the alcove was tricky and caused some damage to the drywall, it was easy to repair and Erin writes that "having this fit like a glove was so worth it". Of course, for an experienced DIY and design savant like Erin, thinking on her feet and using scrappiness and design-sense is just how she operates. So, upon seeing that the legs of her new cabinets didn't extend as far back as she had hoped, leaving room for dust bunnies and inconvenient cleaning tasks, she used some of the scraps leftover from trimming the side face frame and used glue and finish nails to sneakily set them in place.
Of course, it helps to have a second or third set of paws to assist with the process.
Making Custom Cabinets Accessible
Cabinet Joint's process is meant to inspire happiness and satisfaction. When everything is custom, there's no reason to get anything less than exactly what you want, especially when there's a team of experts who work to figure out how to accommodate exactly what you want in the space you have to do it. Erin writes that in the early stages, she and her Cabinet Coach Jim went back and forth on the details until she was happy. The very process of designing her cabinets was one where she fulfilled a long-held dream. When assembling the vanity, she used her imagination to put it together in the way that would bring her the most joy. And, lastly, she writes:
"After years of admiring inset cabinets and thinking I could not have them, I finally have the inset cabinets of my dreams!"