New RTA Cabinet Options, Summer 2015!
Conestoga has just released its newest product additions for the RTA cabinet line. By adding some convenience items (installation brackets for inset drawers) as well as some really needed design additions (flip up door cabinets, shaped toe kicks, etc), they have further rounded out the offering and put even more distance between themselves and the imported Asian 'what you see is what you get' cabinet lines. Read on to learn more about these exciting new changes and additions!
Inset Drawer Glide Mounting Bracket
Blum discontinued this item a few years ago, but based on popular demand, they have re-engineered it. This saves time installing blocking to support the drawer glides in inset applications. The blocks add $8.50 per pair and are included in inset jobs automatically unless requested otherwise. You can still use your own blocking, but we strongly suggest the use of these mounting brackets.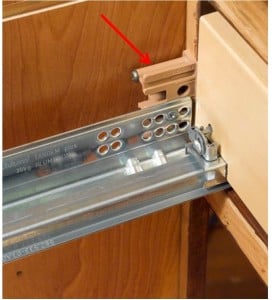 ---
Shaped Bottom Rail
Another standard option that was removed from the offering a few years ago has been re-introduced. This option allows the customer to order a valance  type cutout for the flush toe on any base/tall cabinet. Minimum cabinet width of 15″ is required. Any standard Conestoga one piece valance design may be used (Elegant Arch, Roman Arch , Classic Arch or Traditional arch). Cabinets ordered with loose toe option are not available with shaped bottom rails.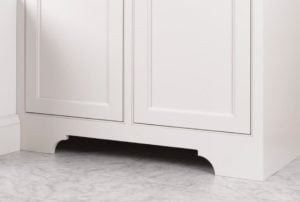 ---
Single Door cabinets for flip up doors
Lift hinges for upward opening wall cabinet doors are commonplace in Europe continue to gain popularity within the U.S. design community. This approach affords clear and easy access to the cabinet contents while the door remains out of the way above the head of the user.  Conestoga is now allowing single doors on any cabinet between 24 and 36″ wide as an option. When ordering a single door cabinet between 24 and 36, the door will not be hinge bored and no flip up hinges are supplied. The Aventos system is available as an option, please see the Aventos lift system in the Catalog. You can also supply your own hinges/hardware from an aftermarket supplier.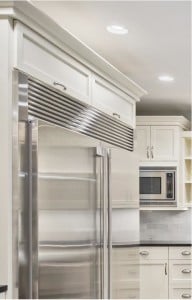 ---
No shelf Hole option
Shelf hole can be eliminated from any cabinet at no charge. In TTW (two tiered wall) and tall cabinets (basically, any cabinet with two vertical compartments), the shelf holes can be eliminated in the top, bottom or both compartments. This creates a cleaner look when no shelf holes are desired.
---
Wall Hung Vanities
Wall hung or "floating" vanities have been exhibited prominently at KBIS, on many home improvement shows, in trade publications and on numerous websites.  They are extremely popular in Transitional, Contemporary and Asian inspired bathroom designs. A unique back design is dovetailed into sides for additional strength and support. These vanities have been designed and tested to support the weight of counter tops and plumbing fixtures. Each cabinet includes two 2"x 4"s used to secure the unit to the wall. There are 3 configurations; single door, double door and two vertically stacked drawers. They are available from 21 to 36″ wide, 18 to 24″ high  and 18-21″ deep. Available in custom 1/16″ size increments. Advantage plywood cabinet box only.
Wall Hung Vanity (Cabinet Code WHV = Wall Hung Vanity)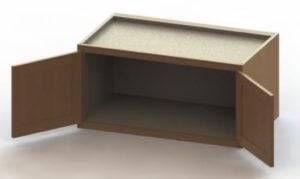 Wall Hung Vanity with Double Doors (Cabinet Code WHVCS = Wall Hung Vanity Center Stile)
Wall Hung Vanity with Double Drawers (WHV2D = Wall Hung Vanity 2 Drawer)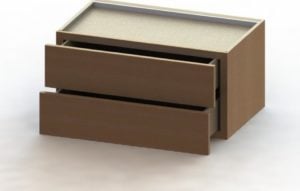 ---
Tall Case Only, front frames and Refrigerator End Panel options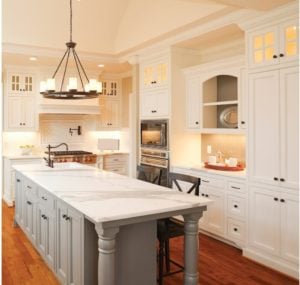 As ceilings have gotten higher over the years, Conestoga has responded by offering taller wall cabinets, two tier cabinets, and tall cabinets up to 120″. With the success of the Custom Sized Case Only cabinet (a box only which uses a custom configured front frame to achieve unique customer-driven cabinet configurations), Conestoga has increased the available heights of the CSCO to 120″. Obviously, if the CSCO is needed in a height over 96″, the custom face frame would need to be as well. Conestoga has therefore increased the allowable height on a custom face frame to 120″ as well. Lastly, they now offer REP (Refrigerator End Panels) up to 120″. With these additions, customers can easily design tall kitchens for use in high ceiling applications.