Why choose Conestoga RTA Cabinets?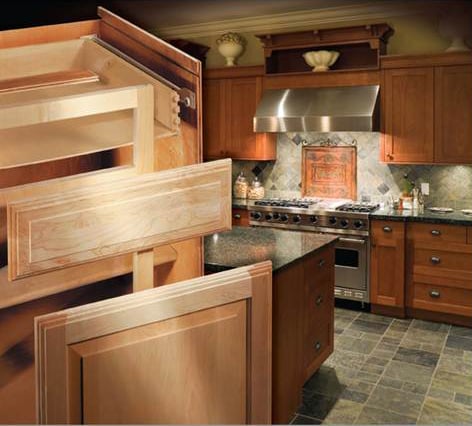 Alas, the question we get asked perhaps more than any other. The reasons are almost too many to list in the space of this short blog, but they include:
Conestoga is 100% American made from plywood, to hardwoods, to Hardware.
Conestoga is not an importer, they are fully custom, ultra high end company who has been producing wood working components for industry professionals for over 50 years. They are known in the industry as the preeminent luxury grade producer of cabinet doors and components which are used by many if not most of the country's most elite custom cabinet shops. Even many of the brands you see in the big box stores have purchased doors from Conestoga.
Custom sizes are available, something the imports cant match
Unique and unparalleled assembly using sliding dovetails and proprietary splines versus twist lock cams as the import cabinets do.
Sherwin Williams coatings using a Catalyzed Conversion Varnish baked on top coat. Import cabinets most often use inferior water based coatings that are not up to snuff in terms of durability.
Stains are hand wiped, not sprayed on. No 'batch match' issues to worry about since the product is not set on a shelf or run in high volume batches. Each job is matched to the master control panel, the same one that was used on your original job, so a door you order now will match the one you ordered for you project a month ago.
Select cuts of lumber. Order a sample door from us and then compare to theirs. You will immediately see the difference in the quality of the wood and the finish.
Blum soft close hardware, not imitation hardware
Superior fit, finish and attention to detail. Conestoga's drawer boxes come assembled and finished and the dovetails are sanded smooth. any gaps are filled. Cabinet boxes are square and strong. Pull out trays are fully adjustable with no tools.
7 and 9 ply veneers in cabinet sides versus 3 and 5 layers used by imports. Thats why their cabinet sides look like a potato chip coming out the the box and Conestoga's are flat.
We can replace any part of any cabinet you need. No need to buy a whole cabinet if you mess something up or damage something. Replacements are fast too, often as little as a couple days for unfinished products.
You have the peace of mind knowing that your cabinets were made CUSTOM for you, not pulled from a shelf. We have hundreds of doors and thousands of colors to choose from, so you can make a unique design statement with your kitchen instead of settling for that 'me too' look.
The list goes on and on…
We encourage you to check out our Squidoo blog that talks about the differences in more detail. you can link to it here. Just realize that, just like in cars, furniture or any other luxury product, there are price points and there are huge differences that drive these prices points. Chevy and BWM are both great cars, but they are not the same car and prices reflect that.
Thanks for reading and we enjoy your comments!