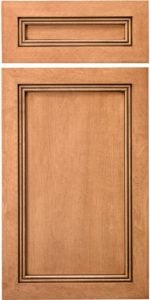 The TW-10533 and TW-10522 are very similar, the difference being that the 10533 uses a 1/4″ veneered center panel instead of a 5/16″ plywood, putting the panel 3/8 back from the face of the door.
Available in painted MDF using any of our Colortone (CWS) paints, custom Prism (Sherwin Williams) paint collection, or in Primer (customer to paint).
Also available in raw, unfinished (none – finished by customer) MDF.
This design is not recommended for Inset Cabinets
The cross section below shows how your door may look, but the profiles you select will affect the final look of your door

| | |
| --- | --- |
| Door Design | TW10533 |
| Panel Raise | 1/4″ Veneered Panel |
| Framing Bead | Design Specific |
| Edge Profile | L-149 |
| Specie | Hard Maple |
| Finish | Ginger with Brown Glaze |
| Drawer Front Design | TW10533 |
| Drawer Front Panel Raise | Design Specific |
Available Profiles
| | |
| --- | --- |
| Edge Profiles: | B-2, C-2, H-2, L-034, L-059, L-149, L-253, L-382, L-686, L-803, L-1160, LC-2, ME (Machined Edge), PRS-2, & V-2. |
| Framing Beads: | All |
| Panels Raises: | None - Design Specific 1/4" veneered panel |
Available Profiles PDF
Available Drawer Fronts