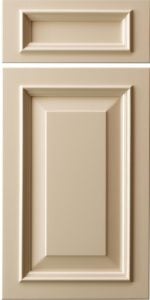 The CRP-10A48 design is very similar to the CRP-10772 but uses a more delicate the molding. This door is highly customizable and allows the client the ability to choose: edge profile, framing bead profile, & the panel raise. The "Ogee" framing bead is a Cabinet Joint favorite for this door. To heighten the popularity of this door specifically for painted finishes, Conestoga (CWS) made this highly customizable door available in full, five-piece MDF construction and called it the CRP-10A48 (MDF).
Available in painted MDF using any of our Colortone (CWS) paints, custom Prism (Sherwin Williams) paint collection, or in Primer (customer to paint).
Also available in raw, unfinished (none – finished by customer) MDF.
The cross-section below is an example of how your door will look, but any profiles you choose will determine the final look of your door.

| | |
| --- | --- |
| Door Design | CRP10A48 |
| Panel Raise | P-008 |
| Framing Bead | Ogee |
| Edge Profile | L-149 |
| Specie | MDF |
| Finish | Chesapeake |
| Drawer Front Design | CRP10A48 |
| Drawer Front Panel Raise | P-057 |
Available Profiles
| | |
| --- | --- |
| Edge Profiles: | B-2, C-2, H-2, L-034, L-059, L-149, L-253, L-382, L-686, L-803, L-1160, LC-2, ME (Machined Edge), PRS-2, & V-2. |
| Framing Beads: | All 3/4" profiles available. |
| Panels Raises: | All 3/4" profiles available except P-106. |
Available Profiles PDF
Available Drawer Fronts