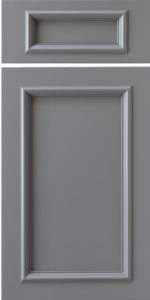 One of the most popular designs in our Applied Molding doors, the CRP-10161 offers just enough detail to capture glaze well but keeps from looking overly busy by giving the door some 'relief'. To perfect this offering for painted finishes, Conestoga (CWS) has designed a full, five-piece MDF construction version of this door called the CRP-10161 (MDF).
Available in painted MDF using any of our Colortone (CWS) paints, custom Prism (Sherwin Williams) paint collection, or in Primer (customer to paint).
Also available in raw, unfinished (none – finished by customer) MDF.
The cross-section below is an example of how your door will look, but any profiles you choose will determine the final look of your door.

| | |
| --- | --- |
| Door Design | CRP10161 |
| Panel Raise | Reverse G-Cove |
| Framing Bead | Design Specific |
| Edge Profile | L-149 |
| Specie | MDF |
| Finish | Metropolitan Grey |
| Drawer Front Design | CRP10161 |
| Drawer Front Panel Raise | P-057 |
Available Profiles
| | |
| --- | --- |
| Edge Profiles: | B-2, C-2, H-2, L-034, L-059, L-149, L-253, L-382, L-686, L-803, L-1160, LC-2, ME (Machined Edge), PRS-2, & V-2. |
| Framing Beads: | None - Design Specific, no options. |
| Panels Raises: | P-057, P-602, Presidential, & Reverse G-Cove only. |
Available Profiles PDF
Available Drawer Fronts