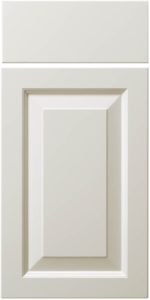 The 10SQ1 (MDF) door while similar in appearance to our raised panel wood doors is actually a one-piece, solid MDF door. This door is a great option for a painted kitchen with a slightly more traditional design. Please note there is not a matching drawer option for this door. For a similar door, with a matching drawer front, consider the 10SQ2 (MDF) door & drawer.
Available in painted MDF using any of our Colortone (CWS) paints, custom Prism (Sherwin Williams) paint collection, or in Primer (customer to paint).
Also available in raw, unfinished (none – finished by customer) MDF.
The cross-section below is an example of how your door will look, but any profiles you choose will determine the final look of your door.

| | |
| --- | --- |
| Door Design | 10SQ1 |
| Panel Raise | Design Specific |
| Framing Bead | Design Specific |
| Edge Profile | L-149 |
| Specie | MDF |
| Finish | Frosty White |
| Drawer Front Design | Slab |
| Drawer Front Panel Raise | N/A |
Available Profiles
Edge Profiles:
B-2, C-2, H-2, L-034, L-059, L-149, L-253, L-382, L-686, L-803, L-1160, LC-2, ME (Machined Edge), PRS-2, & V-2.
Framing Beads:
None - Design Specific, no options. (note: the SQ series are square on the inside of the framing.)
Panels Raises:
None - Design Specific, no options.

(note: MDF products greater than 26" wide or 48" high will be made with two equal panels, unless otherwise specified.)
Available Profiles PDF
Available Drawer Fronts