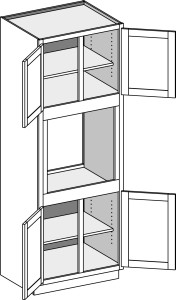 CABINET CODE: OS (CS will appear on your quote if your cabinet is not one of the standard sizes – CS = Custom Sized)

SIZES:
Width:  27″ to 36″ in 1/16″ increments
Height: 84 to 96″ in 1/16″ increments.
Depth: 24″, 27″ or 30″ only
TO ORDER: Indicate OS + width + height. IE: OS3096 is for a 30 x 96 cabinet. Indicate depth in special instructions. 24″ is standard unless specified.
DESCRIPTION: Oven cabinet for single oven. (Use ODA or ODB for double oven or combo oven applications). Oven opening is 6″ less than cabinet width and trimmable by up to 3″. Opening height is 39.5″ and is trimmable by 5″. Oven opening is 33.5″ off floor. For custom configurations, consider the CSCO (custom size case only) with custom face frame.
Available Sizes & Cabinet Codes
Cabinet sizes are part of the cabinet's code below. Width is listed first, then height. For instance, a cabinet with a code of XYZ1230 would be 12" wide &mult; 30" high.
| | | | | |
| --- | --- | --- | --- | --- |
| 84″ High | | 90″ High | | 96″ High |
| OS2784 | | OS2790 | | OS2790 |
| OS3084 | | OS3090 | | OS3090 |
| OS3384 | | OS3390 | | OS3390 |
Available Options