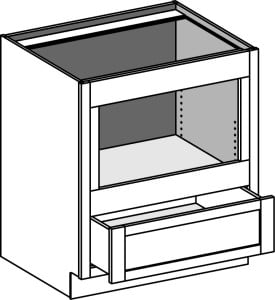 CABINET CODE: BIUCM (CSBIUCM will appear on your quote if your cabinet is not one of the standard sizes – CS = Custom Sized)
SIZES:
Width: 24″ to 36″ in 1/16″ increments
Height: 31.5″ to 42″ in 1/16″ increments
Depth: 12, 15, 18, 21, 24 27, and 30″ deep only. 12, 15, 27 and 30 deep versions are available with Blum Tandem soft close glides only.
TO ORDER: Indicate BIUCM + width + height. IE: BIUCM3034.5  for a 30″ wide x 34.5″ high cabinet. If depth other than standard 24″ is required, note as special instruction.
DESCRIPTION: Base cabinet with built in MW opening above drawer. Top opening height is 13″ high and 6″ less than cabinet width when in standard 34.5″ high. As height changes, upper opening height changes. Opening can be trimmed 5″ in height and 3″ in width. Lower drawer opening height fixed at 8″.
Available Sizes & Cabinet Codes
Cabinet sizes are part of the cabinet's code below. Width is listed first, then height. For instance, a cabinet with a code of XYZ1230 would be 12" wide &mult; 30" high.
BIUCM2734.5
BIUCM3034.5
BIUCM3334.5
BIUCM3634.5
Available Options