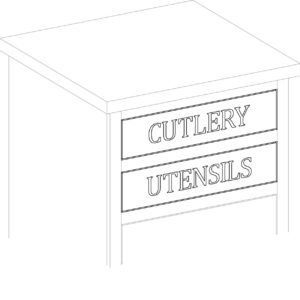 Available in all 3/4″ and 1″ thick solid wood and MDF slab drawers.
All 3/4″ species available except Pine or rustic knotty. All 1″ species available except Bamboo, Pine or rustic knotty.
All edge profiles available.
Horizontal grain only.
Lettering available in all upper case or first letter upper case with lower case for the remaining letters.
Standard font will be used; no options.
Lettering will be centered horizontally and vertically on the drawer front based on the first letter.
Height of the capitalized letters is 2-3/8″, lower case letters will vary.
All Conestoga finishes are available.
Lower Case Option