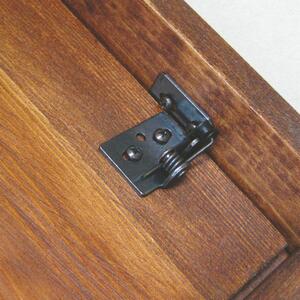 Knife hinge slot is 9/32″ wide, 37/64″ deep and 1-3/4″ long. Placement is 3″ from edge of door to the center of slot.
Doors 9″ – 35-15/16″ receive 2 slots.
Doors 36″ – 51-15/16″ receive 3 slots with one centered.
Doors 52″ and greater receive 4 slots with center slots set 25″ in from each end.
Knife hinge slot will accommodate the following hinges:
Youngdale: 5 and 6 hinge
Amerock: 2603, 2605 and 2606 hinges
Available with the following edge profiles only: B-2, C-2, CFP-2, E-2, H-2, J-2, L-034, L-120, L-149, L-281, L-297, L-772, L-803, LC-2, LC-Inset, Machine Edge, PRS-2 and V-2. Not available with rabbeted edge profiles.
Not available on framing less than 2-5/16″ in width. Cut down framing option is not available.
Not available in frame only or mullion designs, doors under 9″ high, Batten doors, CRP-10605 and CRP-10446.
| | | |
| --- | --- | --- |
|   | |   |
|  Knife Hinge Door Diagram | |  Knife Hinge Slot Diagram |