Hinge Boring – Pattern "C" for Frameless Cabinets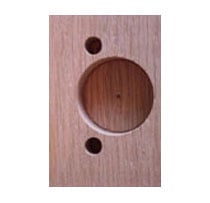 Ideal for frameless cabinet manufacturers; locates hinge cup at 3-3/4″ (94.5mm) in from the edge of the door.
Boring consists of a 35mm diameter hole, 13.5mm deep with a 5mm tab dimension from the edge of the door.
Insert holes are 8mm in diameter, 11.9mm deep, located 9.5mm from the center of the 35mm bore to the center of the 8mm insert bore.
Specify with or without insert holes.
Doors 9″– 42″ long receive two bores.
Doors 42-1/16″ – 72″ receive three bores with the third entered on the height of the door.
Doors 72-1/16″ and longer receive four bores with center holes set 25″ in from each end.
Boring available on the following edge profiles only: B-2, CFP-2, H-2, L-034, L-059, L-149, L-281, L-297, L-803, LC-2, LC-Inset, Machine Edge, PRS-2 and V-2. Not available with rabbeted or partial inset edge profiles.
• Concealed hinge boring is available on inset/prefit doors with the following edge profiles: L-253, L-686, Machine Edge, L-947, L-967, L-304 and L-996.
Pattern "C" accommodates the following hinge models:
Blum: 107, 120, 120+, 170, Diagonal 20, 30, 37, 45, Angle 25 and Clip Top Series
Grass: Tech, 300 and 3000 Series
Salice: 200 Series (use 2mm mounting plate)
Ferrari: H91/C90 Series (for 5/8″ overlay use 6.0mm mounting plate, for 3/4″ overlay use 4.5mm mounting plate)