Edge Profiles for Overlay Cabinets – No Concealed Hinge Boring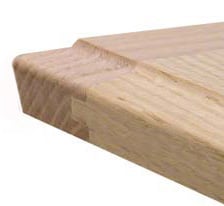 The edge profiles below are not able to be ordered with Concealed hinge boring (any pattern) because the profiles are too deep and the cup hole would break through the door face in the edge profile area or because the profile uses a finger pull back bevel. Customer must supply hinges and hinge preparation if these edges are ordered.
For profiles with finger pull back bevel:  When ordering, do not use in conjunction with full overlay cabinets. There is not enough room to get your fingers between the doors and drawer fronts in order to open them easily.
| | | | | |
| --- | --- | --- | --- | --- |
|   | |   | |   |
| C-2 | | E-2 | | RC-2 |
|   | |   | |   |
| FP | | J-2 | | L-061 |
|   | |   | |   |
| L-120 | | L-772 | | L-947 |
| | | | | |
| | | | | |