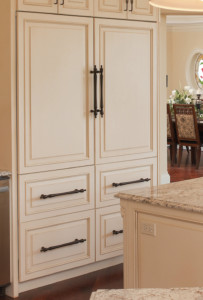 Appliance panel selection must be noted when ordering. See offering and availability pages in the Wood Doors and Drawer Fronts section for appliance panel options and specific designs. Ensure your appliance model is designed to receive appliance panels.
Apply over plywood and glue in strips options will have the following margins unless otherwise specified:
Refrigerator panel – 1/2″ margin on all sides.
Other appliance panels – 1-1/2″ bottom margin and 1/2″ on all sides.
Margins up to 3″ available with glue in strip option.
If non-standard margins are desired, dimensioned drawings must be submitted.
For apply over plywood and glue in strips methods:
List overall size of panel when ordering. Specify required reveal/margin. Refer to the appliance manufacturer's specifications for this information.
To see if the chosen door design can be manufactured as an appliance panel, refer to the door's detail page on this site or refer to the full catalog download.