Veneer – Poly or wood Back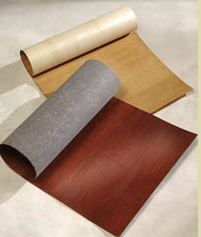 All veneers are approximately 1/32″ thick and have real wood faces.
One end and one side of any veneer sheet is guaranteed to be free from physical damage.
Wood back veneers have a cross grain wood backer which allows trim edges to be stained and finished to reduce "black line" effect.
Poly back veneers are applied to a polymer resin impregnated membrane. They contain no added urea formaldehyde (NAUF), are rigid yet pliable and provide excellent moisture resistance.
Wood back and poly back veneers are available with their applicable backer or a pressure sensitive adhesive (PSA). PSA veneers have a pre-glued adhesive layer protected by a peel coat covering that must be removed prior to application.Veneers are not guaranteed to perfectly match solid wood doors. Veneer is sliced from premium material; color and grain match will be more uniform than solid wood doors. Hickory veneers may contain mineral streaks and peck marks.
Proper surface conditions and preparation is essential to successful application and performance of veneered surfaces.
Per manufacturer's recommendations, veneers of all backer types should be placed flat and allowed to acclimate 48 hours before installation.
Pressure sensitive veneers should not be applied to bare wood or surfaces covered with sanding sealers, high pressure laminates, melamine or other plastic materials.
Wood back and poly back veneers are best applied with roller grade adhesives. Sufficient adhesive coverage on both the veneer and substrate surface will ensure proper adhesion and performance. Not liable for product failure due to improper surface preparation, adhesive selection or installation technique.
Finishing option available. Stained veneers may vary slightly in color from solid wood products of the same specie.
Available Sizes
SPECIES AND AVAILABILITY