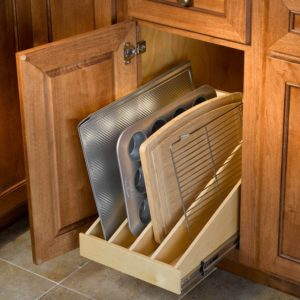 Designed to be installed inside 9″, 12″ or 15″ wide cabinets.
Units are fully assembled including drawer slides and installation instructions.
Maple plywood construction with removable dividers.
Units are 10″ high and 22-5/16″ deep fixed. Will not work with standard depth Cabinets with Inset Doors.
Door requires special lower hinge height location to clear 3-1/4″ high drawer front; 6″ from bottom of door is recommended with 1-1/2″ framing.
Does not work with concealed inset hinges.
Prefinished in natural Birch only; unfinished units are not available.
Available Sizes
SIZES, PART NUMBERS & MANUFACTURER REFERENCE