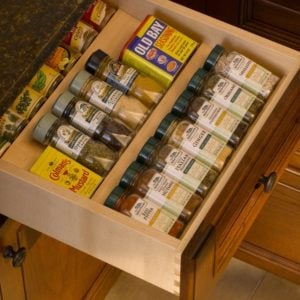 Can be sized to fit a specific drawer box or ordered separately. If ordering separately,specify width and depth.
3/4″ diameter finger hole centered on lead rail for ease of removal from a drawer box.
Spice rests are 5-1/4″ wide, 1-1/2″ high.
Minimum insert: 7-1/2″ wide x 17″ deep.
Maximum insert: 32″ wide x 22″ deep.