Solid Valances (Various Designs)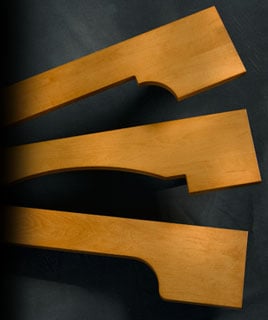 Each valance is 6″ high and  available in any wood.
Straight valance standard with machine edge, but available with any edge profile. Specify which sides receive profile.
Roman Arch valance and Traditional Arch valance comes standard with machine edge.
Valances available with a variety of edge profiles; contact us for options and availability.
Classic and Elegant valance are only available with a machine edge.
Available Sizes
VALANCE STYLES



USING THE VALANCE MATRIX
Use matrices below to determine the specifications for a patterned valance. Find the desired valance length in one of the C rows. The top number (white numbers in a black box)in the column with the desired length is the pattern length. The pattern will be centered on the valance.
From the C block containing the desired valance length, the extreme right number in that row, which is under column B, is the size of the non-patterned area on the left and right side of the pattern. Example: If ordering a traditional valance with an overall length of 30″ (dimension C), it can be seen that 30″ appears in the sixth C row, fourth column of the Matrix.
Referring to the top of the column, in row A, a pattern length of 19″ will be found.
Referring back to the 30″ C row, at the right end of the row, in column B, a straight, non-patterned run of 5-1/2″ on both the left and right ends of the valance will be found.
The selected 30″ valance will have a pattern 19″ wide, centered on the valance, with 5-1/2″ wide non-pattern areas at both ends of the valance.