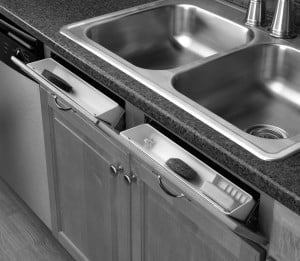 Designed to provide convenient storage behind sink front drawers.
Sold in pairs; can be used individually for smaller drawer fronts or in tandem for wider drawer
fronts.
Trays are white, high impact polystyrene. One tray is open and one includes an integral soap
dish and ring post.
Each kit includes two pair of spring loaded scissor style hinges and installation hardware.
Available Sizes
SIZES, PART NUMBERS & MANUFACTURER REFERENCE