S – Raised Arch Hood w/Display Shelf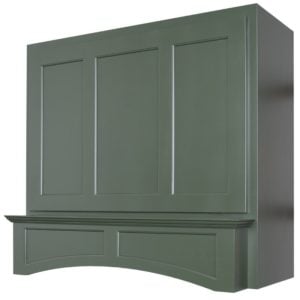 Profile options –

Framing Bead: Regular, Elite, Ogee, Square or F-1223.
Panel Raise: Slant, G-Cove, RM, M-Bead or P-057.

Display shelf depth is 6-1/8″ to tip of moulding.
Lead-time 10 days unfinished, add 7 days for finishing.
Removable panel only.
Available in Alder, Cherry, Hard Maple, PGHM Hybrid, Red Oak, Walnut and Quarter Sawn White Oak.
Custom sizes available through Special Designs.
Available Sizes
Height S-Series
24″  S-33×24 S-39×24 S-45×24 S-51×24 S-57×24 S-63×24
30″  S-33×30 S-39×30 S-45×30 S-51×30 S-57×30 S-63×30
36″  S-33×36 S-39×36 S-45×36 S-51×36 S-57×36 S-63×36
42″  S-33×42 S-39×42 S-45×42 S-51×42 S-57×42 S-63×42