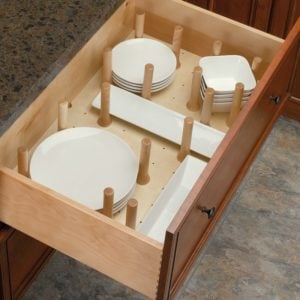 Plate organization kits are designed to be installed in deep drawer boxes for stacked dishware storage.
Base plates need to be cut to fit the interior dimensions of a specific drawer box.
Perforated base plates have adjustment holes in 32mm intervals and are 3/8″ thick covered with Beech wood grained melamine.
Adjustable support posts are 6-5/16″ high solid wood. Posts mount to base plate with a threaded insert, secured with a fastening nut.
Two styles of support posts are designed to accommodate different shapes and sizes of  dishware: triangular and round.
Posts are sold in sets of 4 and must be ordered separately.
Available Sizes