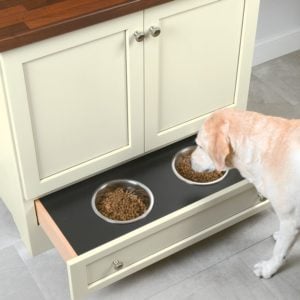 Can be sized to fit a specific drawer box or ordered separately. If ordered separately, specify width and depth.
Available in Hard Maple and Natural Birch.
3/4″ thick Natural Birch plywood insert and divider.
Insert accommodates 5″, 6-1/2″ and 7-3/8″ diameter bowls (not included). Bowls are available at most pet stores.
Not intended to accommodate water bowls.
2″ high plywood divider is shipped loose. Plywood base plate is pre-drilled with pilot holes for divider installation.
Available in drawer box depths between 18″ to 21″.
Single cut-out:
Natural Birch
Hard Maple
Minimum width: 12-3/4″
Maximum width: 18″
Single cut-out:
Natural Birch
Hard Maple
Minimum width: 15″
Maximum width: 36″