Lemans Corner Pull-Out Shelf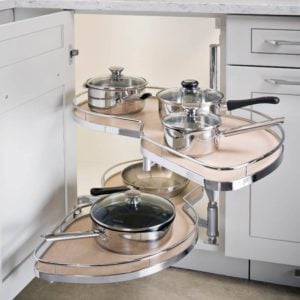 Designed to be installed inside full height or drawer/door blind corner base cabinets.
Minimum door opening angle of 90 degrees required.
Unit includes 2 trays and 2 posts.
Shelves have Maple patterned non-slip surfaces with platinum colored metal rails.
Shelf height is adjustable.
Can easily be retrofitted into existing blind corner cabinetry.
Maximum load per shelf is 65 lbs.
Available Sizes
SIZES, PART NUMBERS & MANUFACTURER REFERENCE