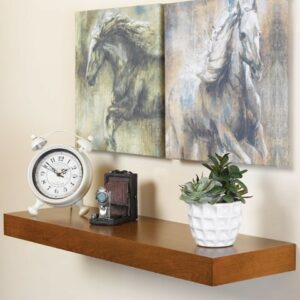 Available species include Cherry, Hard Maple, Paint Grade Hard Maple, Quarter Sawn White Oak, Red Oak and Walnut.
The front and sides of the shelves are made from 3/4″ solid hardwoods, mitered at the two front corners.
The Beaded Floating Shelf includes a decorative bead on both the top and bottom of the front and side returns.
The Crown Floating Shelf includes a modified crown moulding on the front and side returns.
The shelf top and bottom is 3/8″ thick plywood, matching the specie of the hardwood.
Once the Floating Shelf is fully installed, it is recommended that the shelf be secured to the support frame using headless pins or small finishing nails so the shelf cannot inadvertently
slide off of the support frame.
Custom lengths available (24″ – 60″)
See the Decorative Elements PDF for designs, species and technical details.