Door Pilaster Post Assembly – 2, 3 or 4 Sided – Raised or Flat Panel or Plywood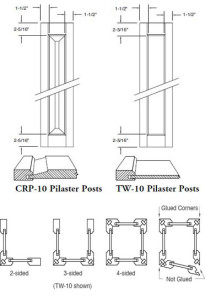 Use these posts to wrap your columns, create island treatments, etc.
Standard framing widths: 1-1/2″ stiles, 2-5/16″ rails and 2-1/2″ middle rail.
Posts cannot exceed 12″ x 96″.
2-sided and 3-sided pilaster posts are available assembled only.
Loose side option available only with four sided Pilaster Post; no additional charge. Post will be constructed as an assembled three sided post with the fourth side held in place with loose splines which can be easily removed, then reinserted at the job site.
During the finishing process it is possible that some finish materials may get on exposed edges. This finishing material should be removed  before glue is applied to allow for a proper glue bond.
Raised (CRP-10) panel minimum width is 5-3/4″
Flat (TW-10) panel minimum width is 3-3/4″
Plywood panel minimum width is 3″
Any wood specie (knotty species not available in TW-10)
Any panel raise or framing bead (1/4″ veneered panel only on TW-10 Pilaster Door)
Standard edge as shown, no options
Most door options available (pegs, grooves, etc)