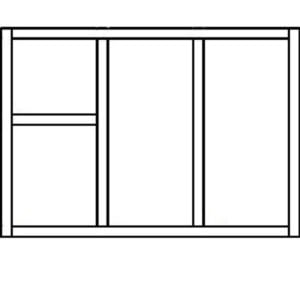 One of the best aspects of Conestoga's program is its flexibility. Custom face frames allow the customer to do the following:
Order custom configured frames/sizes for cabinet they construct
Create unique cabinets within our RTA cabinet program by deleting the standard frame/doors/drawer fronts and then ordering a custom configured face frame which snaps right on the cabinet
Custom frames are available in any wood specie. See section below for specifications, available inset beads for inset cabinet applications, available door edge profiles for doors used in our inset face frames, etc.
NOTE: Information about inset frames/doors contained here pertains to our Inset cabinet option in our RTA cabinet program.
Available Sizes
TO GET A QUOTE
Create  sketch of your frame (hand drawing is fine) showing the overall width and height of the frame as well as calling out each individual piece of framing on the frame and the width and height of each frame's openings.
Forward the sketch with your overall quote request. If the frame is going on an RTA cabinet, please let us know which cabinet the frame goes on.
Be sure to call out the wood, any profiles or instructions for the frame, and any finishing.
IMPORTANT DESIGN NOTES AND EXCLUSIONS
The following door and drawer front styles are not available for inset applications due to their unique design characteristics: Astoria, CRP-1420, CRP-10191, CRP-10318, CRP-10334, CRP-10827, CRP-10875, CRP-10946, DVG Batten, Fairhaven, Flush Batten, Gainsborough, LaSalle, Milan, Prestige, Royal, Savoy, TW-10318, TW-10827, 10946, V-200 and Windham.
Openings with trimmable inserts are not available beaded.
Inset doors and drawer fronts are not available in MDF products.
Finished front frames are not available with antiquing or wear sanding.
Distressed front frames will receive a modified distressing package.
FRONT FRAME SPECIFICATIONS
Double dowel construction on standard width framing.
Material will be standard grade unless premium is noted. Premium grade available, upcharges apply.
Standard framing width is 1-1/2″, additional widths available, upcharges apply.
3/4″ framing thickness standard, 1″ thick material is available, upcharges apply.
Minimum framing width 3/4″; 15/16″ for front frames with an edge profile.
Material surfaced four sides.
Assembled frames sanded on front only with 220 grit paper.
Maximum front frame sizes are 96″ in one direction and 48″ in the other direction. For example, a front frame can be ordered 36″ W x 96″ H or 96″ W x 36″ H but not 96″ W x 96″ H.
Framing wider than 4-1/2″ may have one glue joint. Framing wider than 6-1/2″ may have two glue joints.
Minimum glue-in trimmable insert width is 1/2″; maximum glue-in trimmable insert width is 3″.
FRONT FRAME TOLERANCES
A tolerance of +/- 1/32″ is considered acceptable on front frame exterior and interior opening dimensions. A tolerance of +/- 1/32″ out of square is considered acceptable on front frames under 12 square feet.
A tolerance of +/- 1/16″ out of square is considered acceptable on front frames 12 square feet and over.
1/32″ offset on frame back at any joint is considered acceptable.
1/64″ offset at any exterior joint on the outside perimeter is considered acceptable.
INSET FRAME PROFILES

INSET FRAME DOOR EDGE PROFILE OPTIONS
The following edge profile options are recommended for use with inset doors and drawer fronts. NOTE: L304 and L996 are premium options and incur a per door/drawer upcharge.
These edges have a 5 degree back bevel edge to ensure sufficient door clearance. Machine edge is available upon request at no additional upcharge.
Front frames ordered with inset doors and drawer fronts will be pre-fit to the opening size. A 3/32″margin will be used on all sides for single doors and drawer fronts and between butt door pairs.