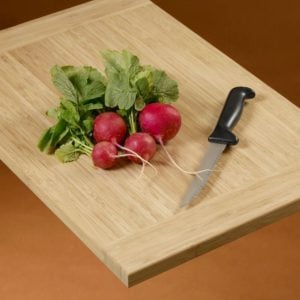 Cutting boards are available in all species.
Cutting boards are 3/4″ thick; one-piece slab designs also available in 1″ thick.
All cutting boards have a routed drip groove into the face of the board to collect liquids.
No oils or finishing treatments will be applied by Conestoga.
Hand pull option on back of cutting board is available
Available Sizes
SIZING INFORMATION
Minimum size for all styles is 10″ x 10″, maximum size is 18″ x 22″.
All designs include 3/4″ radius corners and 3/32″ radius edges.
Three-piece designs are made using 2-5/16″
wide rails on face (horizontal grain) with pinless construction.
CARE AND USE INSTRUCTIONS FOR CUTTING BOARDS
Treat wood with butcher block oil or mineral oil only.
To clean, wipe with a mixture of warm water and a mild dish detergent. Never submerge cutting boards in water or place in dishwasher.
DESIGNS