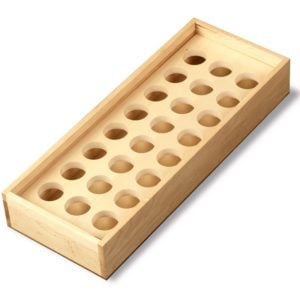 Available in Hard Maple, Natural Birch and Walnut.
All inserts are constructed using 3/8″ sides and ends, 1/4″ bottom and 5/8″ top storage panel.
Height is 3-1/8″. Width is fixed by design – no customization.
Depth on all inserts is customizable between 16″ and 22″ in 1/16″ increments.
When ordered with a drawer box, inserts are sized 1-5/16″ less than the exterior width and depth of the overall drawer box size.
Inserts can be combined with any cutlery divider design to fully utilize entire drawer width. When this treatment is desired, specify the insert design as well as the divider design.