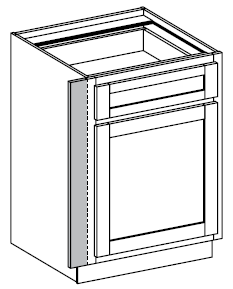 OPTION CODE: EXT(L, R, B)
AVAILABILITY: Most cabinets with face frames except diagonal corner cabinets.
TO ORDER: Indicate EXT + L, R or B (left right or both as facing cabinet) in special instructions for cabinet
DESCRIPTION:  Extended stiles are like built in filler strips, but much cleaner looking since there is no seam. Available in 3″ only, trimmable by customer in field.