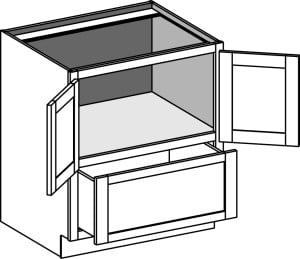 CABINET CODE: BCT (CSBCT will appear on your quote if your cabinet is not one of the standard sizes – CS = Custom Sized)
SIZES:
Width: 30″ to 42″ in 1/16″ increments
Height: 31.5″ to 34.5″ in 1/16″ increments
Depth: 12, 15, 18, 21, 24 27, and 30″ deep only. 12, 15, 27 and 30 deep versions are available with Blum Tandem soft close glides only.
TO ORDER: Indicate BCT + width + height. IE: BCTD3034.5  for a 30″ wide x 34.5″ high cabinet. If depth other than standard 24″ is required, note as special instruction.
DESCRIPTION: Base cabinet with double doors above drawer. Drawer opening fixed at 11.5″ high. As height changes from standard 34.5, top opening changes.
Available Sizes & Cabinet Codes
Cabinet sizes are part of the cabinet's code below. Width is listed first, then height. For instance, a cabinet with a code of XYZ1230 would be 12" wide &mult; 30" high.
BCT3034.5BD
BCT3334.5BD
BCT3634.5BD
BCT3934.5BD
BCT4234.5BD
Available Options