AF007 Aluminum Framed Door- 2-3/4″ Frame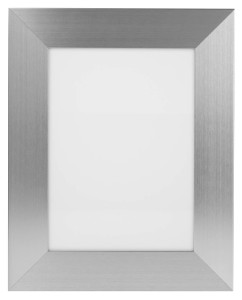 Conestoga's Aluminum Frame Door collection is easy to order and complements several contemporary door programs such as Veneer edgebanded designs and many five-piece wood designs.
Aluminum doors are available in three European inspired miter frame designs in either natural aluminum or brushed stainless steel finishes and includes several glass, acrylic or metal laminate inserts and hardware options.
39 center panel choices (see options in separate section)
All door designs 13/16″ thick.
Similar to AF003, except framing is 2-3/4
Available in 1/16″ increments.
Minimum width/height: 5-1/2″, maximum width/height: 96″.
Maximum square footage: 10 ft.
All doors can be ordered pre-drilled for concealed hinges, decorative hardware and Blum AVENTOS lift systems.
Pattern "A" or Pattern "B" concealed hinge boring with or without pilot holes are available on aluminum frame designs. Custom hinge locations also available.
It is recommended that if a door will be used with concealed hinges, it should be ordered with the hinge boring option to prevent safety issues after it is assembled. Knob and handle boring through the aluminum framing or acrylic inserts can be completed by the customer if desired.
Doors over 48″ in height or 6 square feet will receive an additional centered concealed hinge bore when concealed hinge boring option is selected.