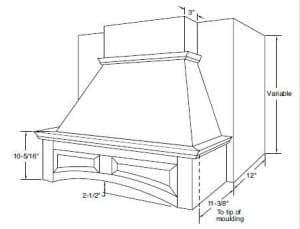 J-Raised Arch is designed to be mounted between left and right cabinets.
Hood can be sized to best fit 8 or 9 foot ceilings.
Profile Options – Framing Bead: Regular, Ogee or Square.
Panel Raise: Slant, G-Cove, RM, M-Bead or P-057.
Fixed panel standard – must request removable panel option.
Available Sizes
Available in Alder, Cherry, Hard Maple and Red Oak only
Available Sizes:
| | |
| --- | --- |
| 30″ High | 36″ High |
| 33 x 30 | 33 x 36 |
| 39 x 30 | 39 x 36 |
| 45 x 30 | 45 x 36 |
| 51 x 30 | 51 x 36 |
| 57 x 30 | 57 x 36 |
| 63 x 30 | 63 x 36 |