H-Arched Raised Hood w/Display Shelf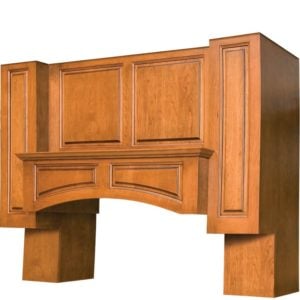 Hearth style hood featuring incorporated display shelf.
Profile options – Framing Bead: Regular, Ogee or Square.
Panel Raise: Slant, G-Cove, RM, M-Bead or P-057.
Display shelf depth is 8-1/8″ to tip of moulding.
54″ and 60″ wide hoods – have two panels on top wainscot.
66″ wide hoods have three panels on top wainscot.
Accommodates corbels up to 9″ wide, 10-1/2″ high and 6-3/4″ deep.
Removable panel standard – must request fixed panel.
Available Sizes
Available in Alder, Cherry, Hard Maple and Red Oak only
Available Sizes:
| | | |
| --- | --- | --- |
| 44″ High | 50″ High | 56″ High |
| 54 x 44 | 54 x 50 | 54 x 56 |
| 60 x 44 | 60 x 50 | 60 x 56 |
| 66 x 44 | 66 x 50 | 66 x 56 |